Visiting The Greenhouses of Munich Botanical Gardens
Disclosure: This post may contain affiliate links, meaning I earn a small commission if you decide to make a purchase though my links, at no additional cost to you, which I'll probably spend on more outdoor gear and travel to cool places.
The Botanical Garden of Munich (Botanischer Garten München-Nymphenburg) is a large botanical garden located in the Nymphenburg district of Munich, Germany. It covers an area of 21 hectares (52 acres) and contains over 14,000 plant species.
The garden is divided into several sections, including a rock garden, alpine garden, herb garden, and arboretum. The greenhouses are particularly impressive and house a wide range of plants, including tropical and subtropical species.
The main greenhouse, known as the Palmenhaus, is one of the largest in the world, covering an area of over 4,000 square meters (43,000 square feet). It contains a vast collection of tropical and subtropical plants, including palm trees, banana trees, orchids, and ferns. There is also a separate tropical greenhouse, known as the Tropenhaus, which contains a variety of plants from different tropical regions, including South America, Africa, and Southeast Asia.
In addition to the greenhouses, the Botanical Garden of Munich also features a large outdoor area, with numerous walking paths, ponds, and benches for visitors to enjoy. The garden is open year-round and admission is free, although donations are appreciated.
Overall, if you love tropical plants, the Botanical Garden of Munich is definitely worth a visit. With its impressive collection of greenhouses and wide range of plant species, it is sure to delight any plant enthusiast.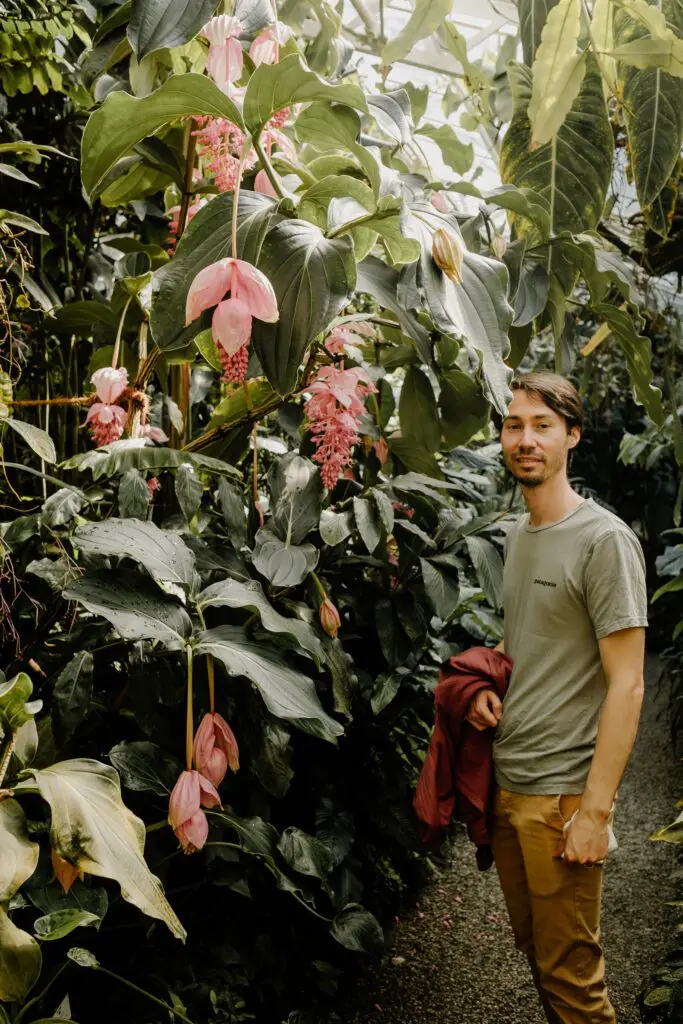 How To Get There & Entry Information
How To Reach The Botanical Gardens in Munich
The best way to get to the Botanischer Garten München-Nymphenburg is by public transport. Both buses 143 and 180 and tram 17 stop close to the gardens, and the journey takes around 20 mins from the Hauptbahnhof (main train station) in the city centre.
There is very limited parking in the vicinity of the botanical gardens, so it's best to travel by public transport if possible.
Opening Times & Prices
The garden is 363 days a year. It is closed on 24 and 31 December. The greenhouses are open from 9am, and close at 4pm in the winter and 5:30pm in the summer.
Admission costs €5.50 per person for adults or €6.50 if you wish to visit a special exhibition. Discounts are available for holders of the Munich Pass, over 65s, students and people with disabilities (with valid ID). Children & adolescents under 18 are free.
More information on opening times and prices can be found here
The Greenhouses
Large Cactus House
The Large Cactus House (Hall A) is where the tour of the display houses begins. It showcases desert and semi-desert landscapes typical of America using gneiss and sand. The cacti and agaves are particularly impressive. Xerophytes are plants that thrive in low rainfall areas and have developed various methods to survive long periods of drought. They can store water in their roots, stems, and leaves. Some have rough, leathery leaves to reduce evaporation while others are succulents with fleshy, juicy tissues that store water. Stem and leaf succulents are common, and some use the entire shoot with main and side branches as a water reservoir.
Orchid House
Welcome to House 1 – the Orchid House, where the beauty and diversity of orchids take center stage! As you step inside, you'll be enveloped by a warm and humid atmosphere that creates the perfect growing conditions for these stunning plants.
Not only will you see flowering orchids from the Botanical Garden's collection, but you'll also find a variety of tropical plants that complement them. You'll even feel like you're wandering through a jungle, thanks to the presence of tropical palms and plumeria, which contribute to the "jungle atmosphere" of the house.
In the heart of the Orchid House, a small waterfall flows into a stream that leads to a pond, providing a perfect home for turtles from the reptile sanctuary. Keep an eye out for these charming creatures as you explore this tropical paradise!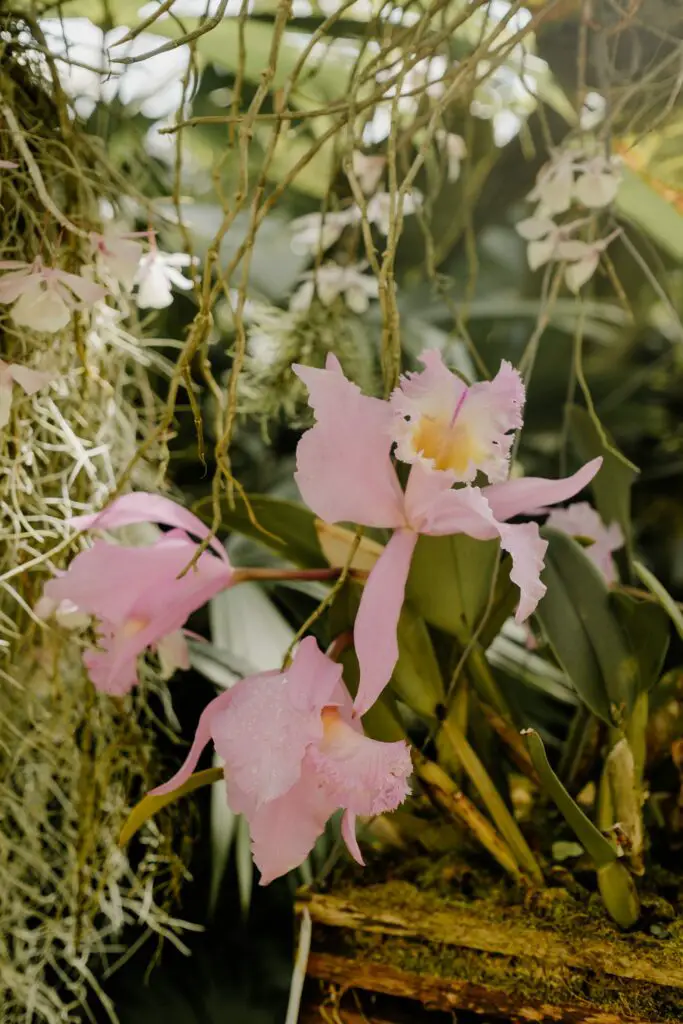 Palm House
The Palm House (Hall B) is a spacious glasshouse with a dome that stands 21 feet high. It was customary during the time of the garden's founding in Europe for the largest glasshouse to be dedicated to palms and other heat-loving exotics, which were considered the epitome of the tropics. The Palm House offers a realistic image of a tropical jungle, with slender palms overgrown with lush green arum plants defining its character. Banana shrubs, vines, aerial roots, stilt roots, and a large screw tree also contribute to the jungle atmosphere. Visitors can spot a variety of plant species, such as the Panama palm, leather mantle tree, giant bamboo, and birch fig, among others. Climbing arum plants like the window leaf can also be seen there.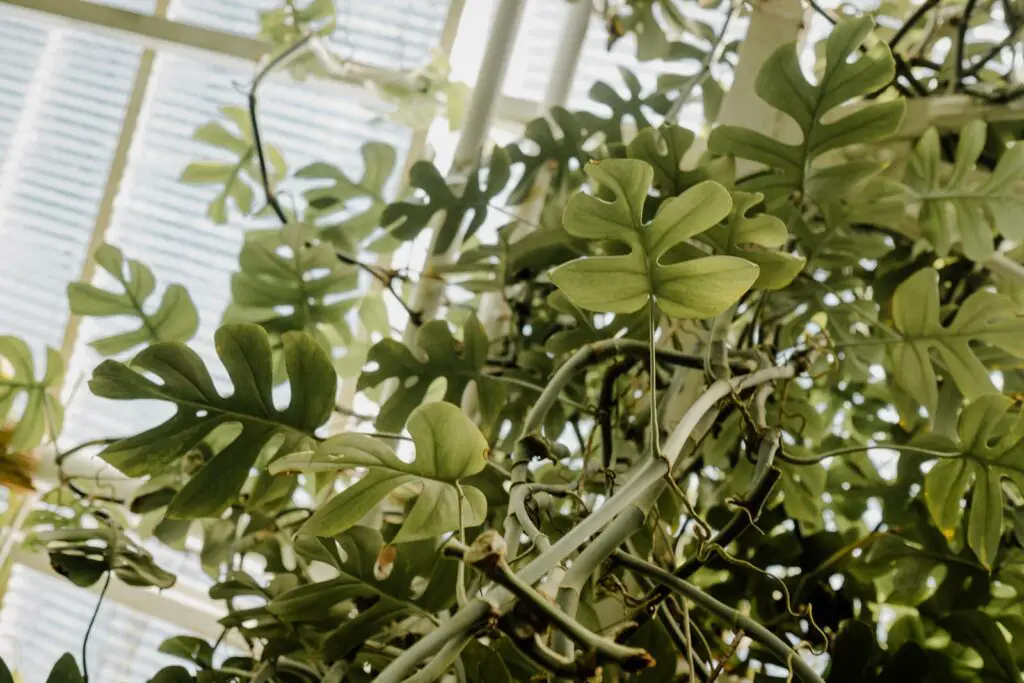 Tropical House of Crops
Get ready to explore the fascinating world of tropical crops in House 2 – the Tropical House of Crops! Here, visitors can discover a variety of useful and aromatic plants that have been used for medicinal, ritual, and industrial purposes throughout history.
The central beds of the greenhouse are home to tall, mostly arboreal plants like banana, cacao, and papaya, which are commonly cultivated in plantations. These plants are sure to tower over you, making you feel like you're wandering through a tropical jungle.
But don't forget to check out the lower shrubs, perennials, and herbs in the side areas of the greenhouse. You'll discover plants of various origins and uses, each with their own unique story and history. So come on in and learn all about the fascinating world of tropical crops!
Africa and Madagascar House
In this large hall, you'll find cacti and succulents that are at home in Africa & Madagascar. And branching off this hall, you can also be transported to the deserts of Mexico as well as the small succulent house, including Welwitschia mirabilis, the "Living Stones" (Lithops and other genera), and rare Aloe species.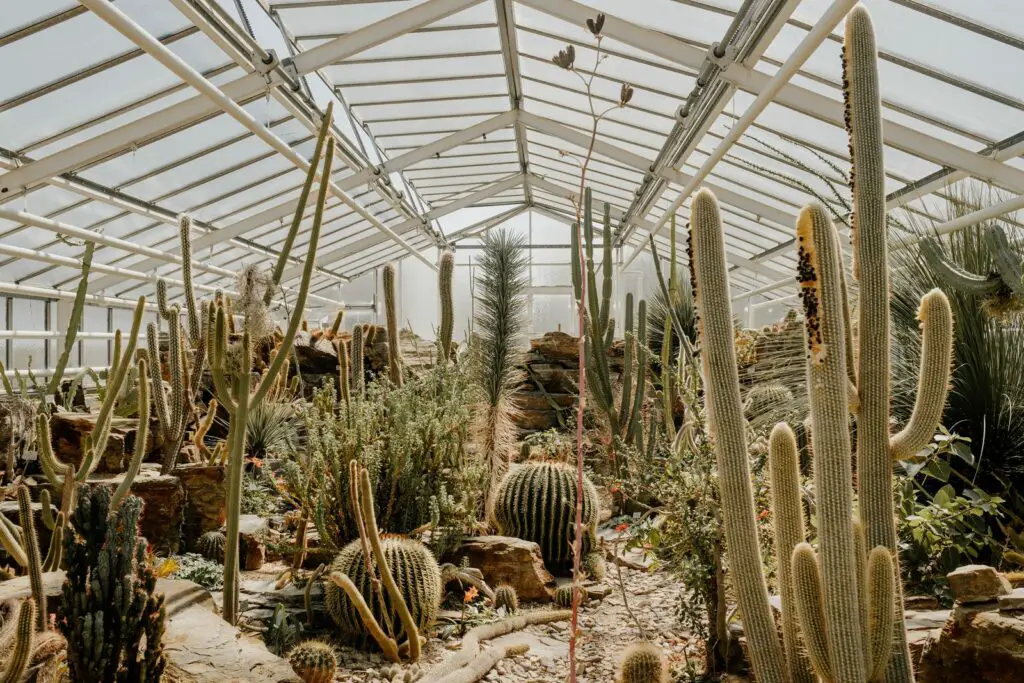 Victoria House
Step into the lush and vibrant Victoria House (House 3) and be transported to a tropical paradise! During the summer months, green climbing plants, pitcher plants, and creepers flourish, creating a picture-perfect illusion of the tropics.
But the real stars of the show are the giant water lily species Victoria amazonica and V. cruziana, whose enormous circular leaves can reach a diameter of almost two meters! These impressive plants dominate the central water basin enclosed by a curved edge, and their upturned fringe and strong, spiny ribs make them a sight to behold.
But that's not all – the lotus flower (Nelumbo) is equally impressive, with circular, somewhat depressed central leaves that water beads off without wetting them. And don't forget to look up and spot the pitcher plants (Nepenthes) hanging from above – a fascinating carnivorous plant that will leave you in awe.
Tropical swamp and aquatic plant House
Get ready for a wild and wet adventure in House 4 – the Tropical Swamp and Aquatic Plant Show House! As the last side house branching off from the Palm House, this greenhouse is home to a variety of aquatic plant species that are sure to make a splash.
With aquariums brimming with exotic fish and unusual underwater plants, you'll feel like you're diving into a colorful and vibrant underwater world. And if that's not enough, you can also explore the above-water form of aquatic and marsh plants on the left side of the house.
Don't forget to check out the carnivorous plants on the south side, separated by a glass pane for your safety. From larger marsh plants in the middle basins to mangrove trees in the southernmost basin, the Tropical Swamp and Aquatic Plant Show House is a must-see for any nature lover!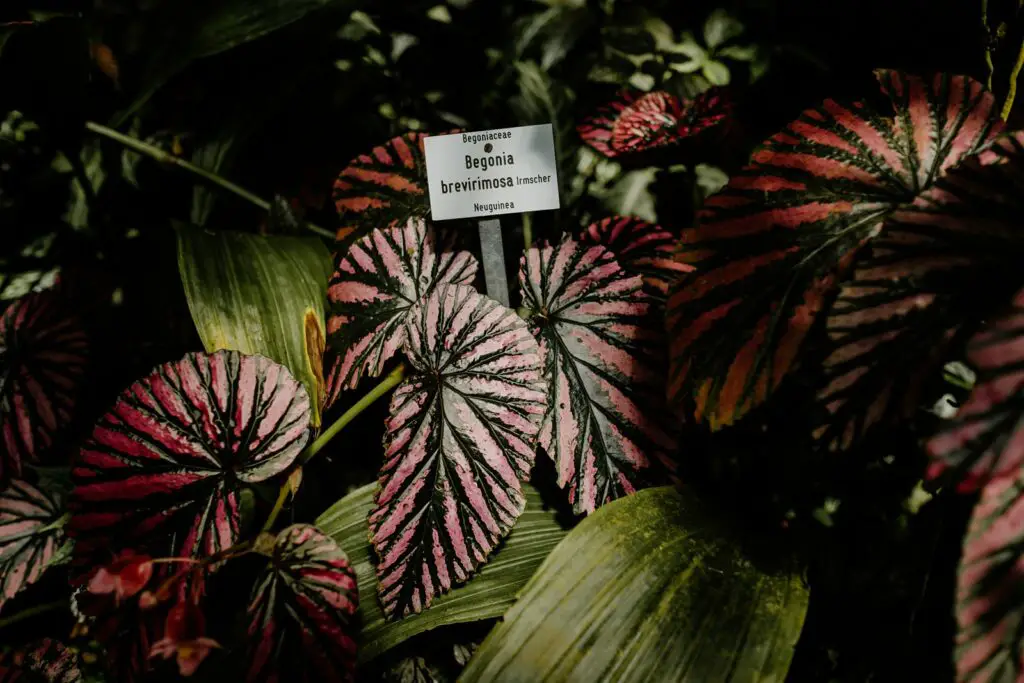 Bromeliad and Araceae House
Step right up, tropical plant lovers! If you're ready to experience the colorful and exotic side of the botanical world, head on over to House 8 – also known as the Bromeliad and Araceae House!
Located just northeast of the Palm House, this greenhouse is dedicated to showcasing the very best of tropical plants, including bromeliads, araceae, and other striking foliage plants like Marantaceae.
As you wander through the humid and warm interior, you'll be transported to a lush tropical paradise, complete with a babbling stream that adds to the vibrant atmosphere. With so much to see and explore, you'll feel like you've stepped into a wonderland of leafy goodness!
Cycad House
House 9, also known as the Cycads House, features primordial seed plants called cycads, which are often referred to as living fossils due to their ancient origins. The greenhouse has a sunken pathway lined with towering cycads, whose reproductive organs are grouped together in impressive cones that can grow to over half a meter in size. Cycads resemble ferns and palms in growth habit and leaf shape but are a separate group parallel to conifers. The Munich collection contains around 30 species of cycads and is unique due to its old specimens.
Tree Fern House
Get ready to be transported to a magical forest when you step into the tree fern house (house 10)! These ancient fern relatives grow on dark brown-red lava soil and mossy lava rock, with some trunks wrapped in a close-fitting green fur of tender-leaved moss plants and others covered in shoot-bearing roots. The trunks are crowned with imposing fronds up to four meters long, offering a popular photo opportunity when young. While they can survive in cold high mountain zones and areas with dry seasons, they prefer warm to cool areas without prolonged dry periods. Keep in mind that the vast majority of these beauties are not hardy and must be cultivated in a greenhouse.
Temperate House
On the north-facing side, house 11 (Kalthaus/Temperate house) is the perfect place to enjoy flowering ornamental and wild plants throughout the year. During summer, the spotlight is on the Fuchsia genus, with an impressive display of interesting wild species, hybrids, and selections. In winter, the house shelters potted plants from milder climates, which bloom from December onwards, delighting visitors with their first and increasingly abundant blooms.
My Highlights
The botanical gardens in Munich are certainly one of the best I've visited so far in Europe. The sheer size and variety of species in the glasshouses is quite spectacular, but as an aroid lover, my favourite areas were definitely the Bromeliad and Araceae House, the Victoria House, the Palm House, and the Tropical Swamp House. It was at the botanical gardens in Munich that I first saw a mature Anthurium Warocqueanum (Queen Anthurium) and my obsession with that incredible plant began.
The Photos