Your First Mountain Hut Experience – What To Expect
Disclosure: This post may contain affiliate links, meaning I earn a small commission if you decide to make a purchase though my links, at no additional cost to you, which I'll probably spend on more outdoor gear and travel to cool places.
Throughout the Alps there are mountain huts in the most breathtaking locations up at high altitudes. Depending on what country you are in, they may be called Hütte/Berghütten, Rifugio, Refugio or Refuge. These mountain huts provide shelter for hikers during multi-day treks and a place to sleep after a long day of hiking.
Austrian mountain huts, in particular, are known for being in some of the most incredible locations, and you might be pleasantly surprised at how easy some are to reach (considering their remote locations). These huts are, however, rather basic. So if you're expecting 5* luxury on a mountain top, you might be disappointed. But if you can survive for a night or two without wifi or a private bathroom, and you're ready for the full alpine experience, then it's definitely time for your first overnight stay mountain hut.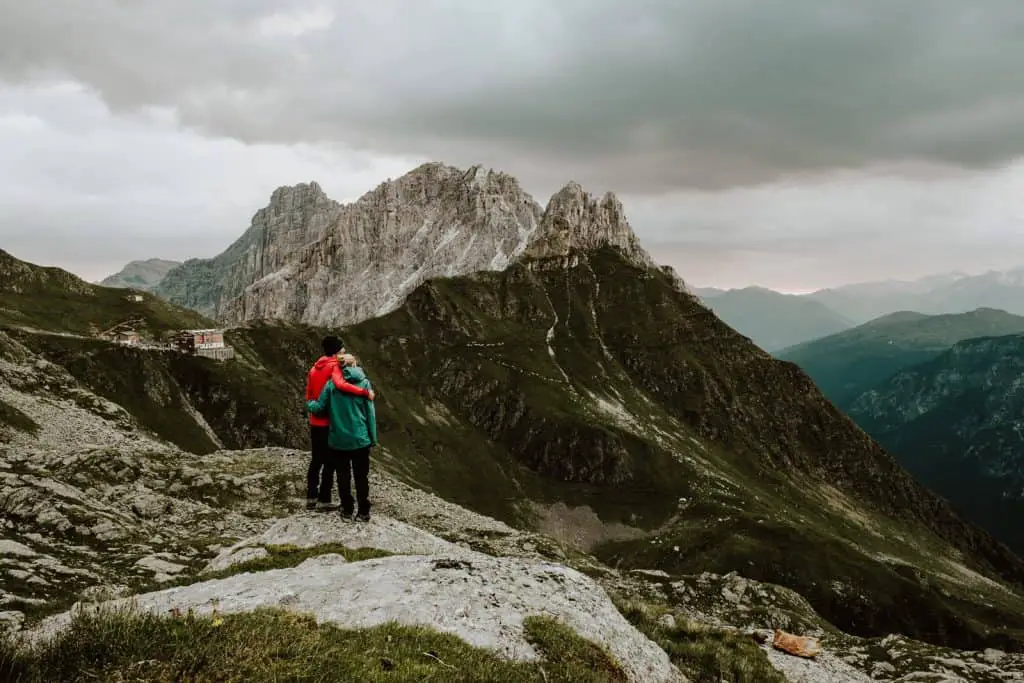 Why Stay In A Mountain Hut?
So if they are basic, why would you swap a night in your 4* hotel with wellness for a night in a mountain hut? Just because mountain huts are a bit on the "rustic" side, it doesn't mean they aren't worth planning a night or two in as part of your next adventure in the Alps. There are a number of reasons to stay in a mountain hut, even when you technically could have done the hike in one day. Some reason you might want to stay in a mountain hut include:
As part of a multi-day, long-distance hut to hut hike
To experience the sunrise from the top of the mountain without the worry of hiking in the dark
To climb a nearby peak the next day
For the experience of sleeping in a mountain hut at altitude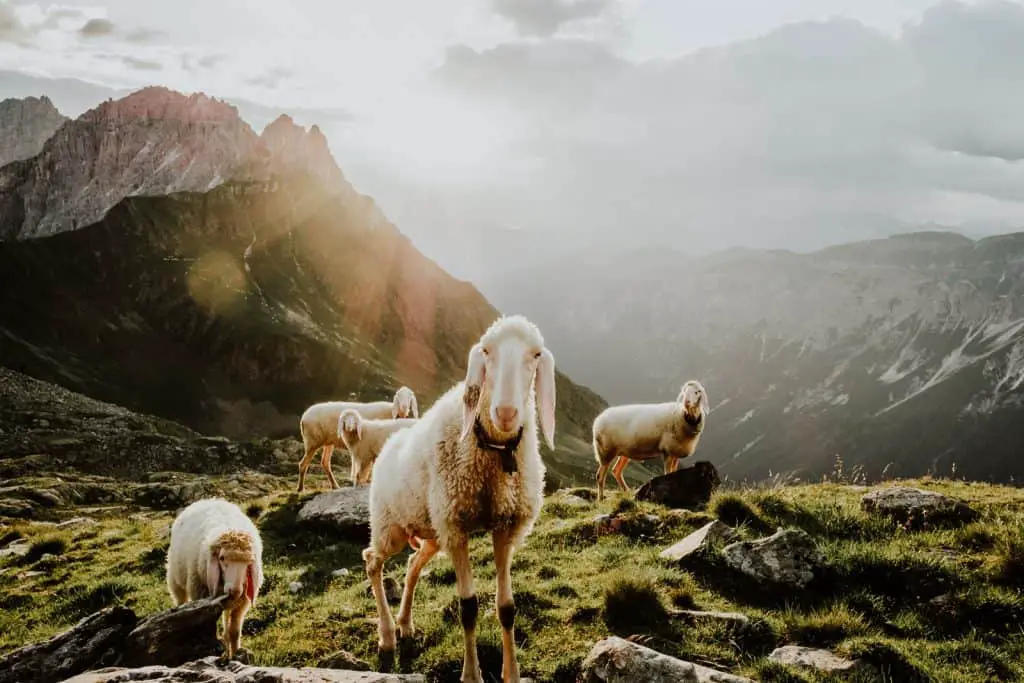 How To Prepare For A Night In A Mountain Hut
I've stayed in a number of mountain huts around the world, and whilst there are subtle differences from country to country, most things are the same. In general, mountain huts are very much "no frills" accommodation. They are there for a purpose – to be a place of rest and shelter for hikers and adventurers in the mountains. But if you do your research, plan ahead and know what to expect, you're going to have an unforgettable adventure.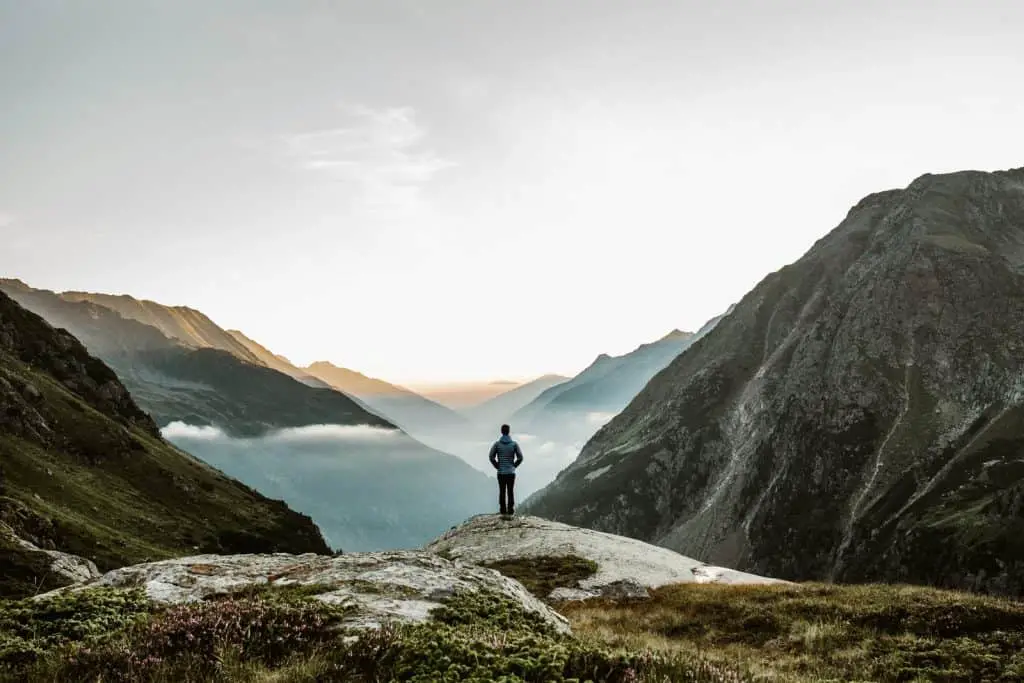 Arrival & Checking-In
Mountain huts are small in comparison to hotels, and beds are limited so it's essential to book in advance (which I'll cover in more detail below). Especially if you're in a group, aim to arrive early in the afternoon, as beds in the rooms are allocated on a first-come, first-served basis. You should also aim to arrive before 6pm, and must let the hut know if you will be late, as some huts will give away beds after this time as they may assume you are not coming. Some huts allocate specific beds whereas others will just allocate rooms and you can pick your own beds, much like in youth hostels. Once you've found your room and your bed, I recommend preparing your bed for sleeping right away so that you're not fumbling around in the dark later in the evening when some of your fellow hikers may have already turned in for the night. It also means that your bed is 100% claimed for you 😉
Mountain Hut Facilities
Facilities in huts vary, but in general mountain huts are basic. After all, they are usually in pretty remote locations. But they are warm and dry and give you the chance to rest after a long day on the trails. Most mountain huts have communal washrooms with sinks, toilets and showers. Because hot water is limited, if you want a hot shower, expect to pay around €1-2 per minute of hot water. Most huts have electricity, so you can usually charge your phone or GPS navigation device, but finding a free plug socket can be a challenge (usually you need to get in there fast as everyone wants to charge their stuff), and don't leave it until you got to bed as you might find that they turn off the generator during the night (that's happened to me before). On single overnight trips, I try to bring a spare battery pack instead of a mains charger. You are highly unlikely to find a mountain hut that has cell signal, let alone WIFI, so expect to spend the night offline. Many huts have a selection of books, card and board games, or you can just spend the night chatting with your fellow hikers.
Food & Drink in Mountain Huts
Most mountain huts overnight stays are booked with half-board (called Halbpension in German), which includes a set evening meal and breakfast. Some huts also offer you to book the bed only and have the facilities to offer a limited a-la-carte menu, so you have a little more choice. Whether you take the set half board or opt for room only and order off the menu, the options will be limited. The food, like the rooms, is generally basic, but it's warm and filling and designed to refuel you after a hard day of hiking. If you have dietary requirements or allergies, let the hut know in advance, but don't expect that they will be catered for. As a celiac vegetarian, it can be a challenge to get food in some mountain huts, so I always have a backup hiking meal or some gluten-free pasta in my backpack just in case.
Meals are served in the communal area of the hut, usually around large tables where everyone sits together. In most huts dinner is usually served at a fixed time, usually between 6-8pm and breakfast from 6-8am. Most huts are self-service, so you'll need to go up to the counter to order and to get drinks, and be expected to clear up your table when you're done. It's usually cash only and huts prefer small change so make sure you have plenty with you. When it comes to drinks, most huts will have beer and wine, as well as some warm and soft drink options. Drinks are generally not included in the half board, so remember to take some extra cash if you're expecting to have a few drinks in the evening.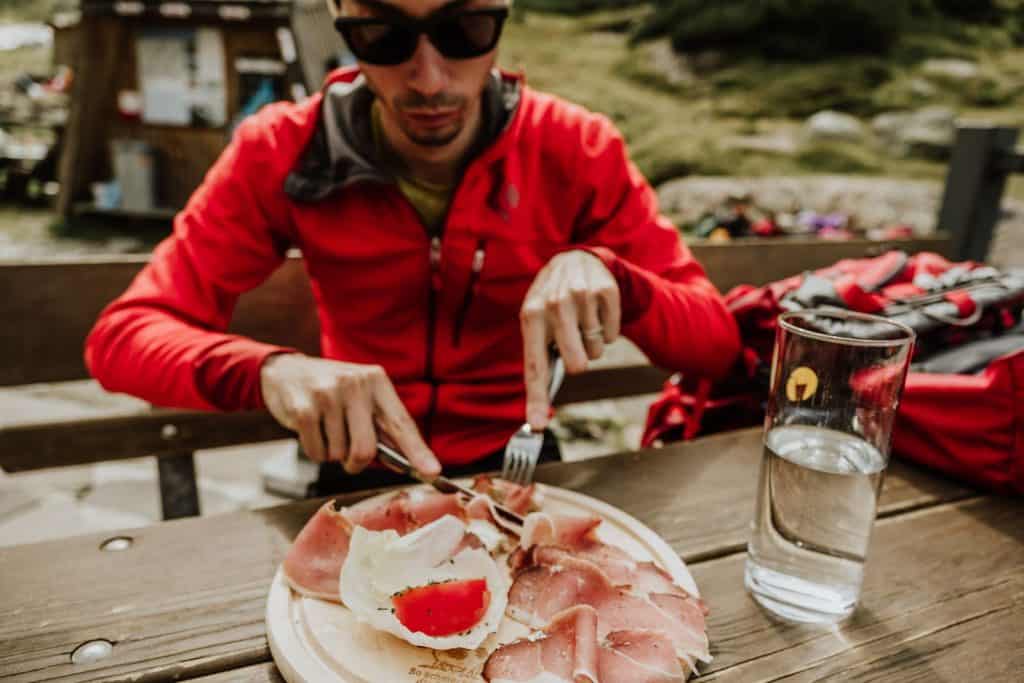 Sleeping Arrangements
Some huts may small rooms for 2, 3 or 4 people, but because they need to maximise space, you'll more likely to find bunk rooms for 6-10 people and the "Matratzenlager" (literally means mattress warehouse) where mattresses are laid out in a long row, sometimes with small dividers in-between. You'll get something soft to lie on, a pillow and up to 2 blankets. Unlike a hotel, mountain huts don't have the facilities to do laundry every day, so the pillow and blankets you will find on your bed are not changed for every guest. Instead, you're expected to bring your own hut sleeping bag, which is a thin sleeping bag liner, to put under the blankets and over the pillow.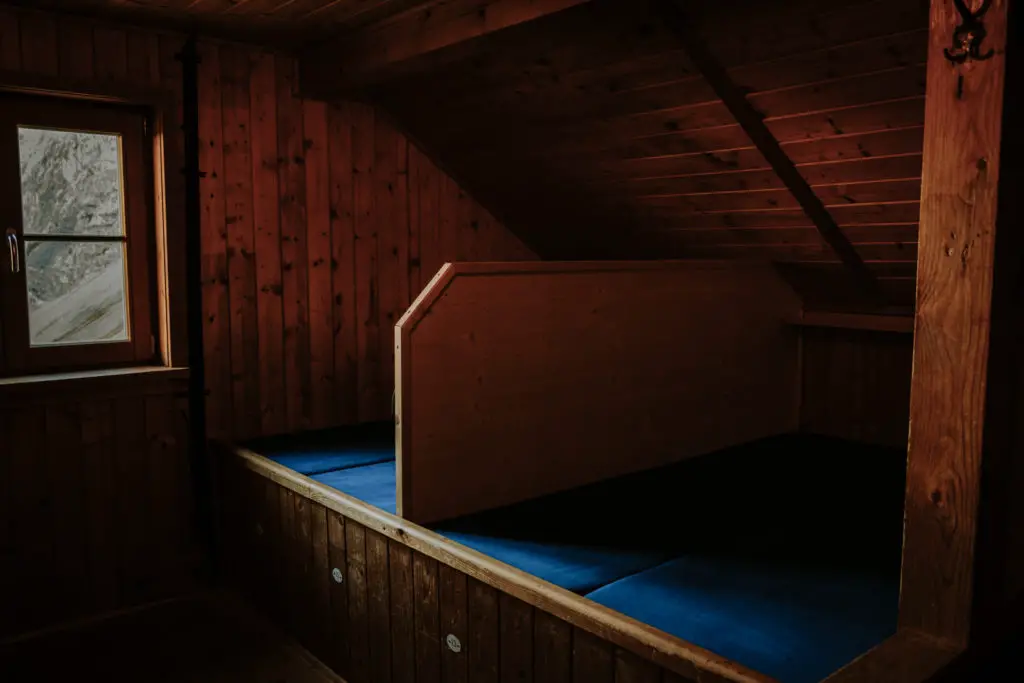 Checking Out
You're usually expected to pay for your stay on arrival or after dinner so that in the morning you can leave whenever you are ready to go. Most huts don't have a lot of facilities for the disposal of rubbish, so in many mountain huts, you are expected to take your trash with you when you leave. And of course, it's just expected that you leave everything as you found it, so fold the blankets and tidy the area around your bed.
Mountain Hut Etiquette in Austria
The first thing you'll be expected to do when you enter a mountain hut is to take off your boots and any wet gear. There is usually a boot room right by the entrance and many have slippers that you can borrow if you don't want to bring your own. Otherwise, walking around in your socks is also fine. Many boot rooms also have clothing lines hung from the ceiling where you can hang up your wet clothes too – just make sure they aren't dripping on someone else's stuff.
When it comes to sleeping, be respectful of the people you are sharing with. Some people will go to bed early, and many will get up early the next morning. Have a torch if you need to find your way about in the dark, and try to be as quiet as possible if you are coming in late or leaving early. If you're planning on an early start before most people are awake, leave you gear packed and ready to go so that you're not disturbing people.
How Much Does A Night in A Mountain Hut Cost?
If you are a member of the Alpenverein (Austrian Alpine Club or a partner organisation) you can get a discount of around €10 on your stay.
Average prices for a single night in a mountain hut in Tirol:
| | | | |
| --- | --- | --- | --- |
| Room Type | | Bed Only (per person) | Half Board (per person) |
| Matratzenlager (Large Dorm Room) Adult | | €22 / €12 AV members | €55 / €45 AV members |
| Matratzenlager Youth (7-18) | | €16 / €8 AV members | €50 / €40 AV members |
| Smaller Dorm Room Adult | | €30 / €20 AV members | €60 / €50 AV members |
| Smaller Dorm Room Youth (7-18) | | €20 /€10 AV members | €55 / €45 AV members |
| Two-person room (not available in all huts) | | €45 / €30 AV members | €85 / €70 AV members |
How To Book A Mountain Hut
Most of the mountain huts in Tirol have some kind of web presence, so you can usually find out how to book, and sometimes even reserve your place online via their website. The most important thing is to book in advance, as most huts will book out completely over the peak holiday times and weekends during summer months.
To locate all the mountain huts in Tirol and find out how to book, I recommend using the Alpenverein website's Hut Finder: https://www.alpenverein.at/huetten/finder.php
Are Mountain Huts in Tirol Open All Year?
Most mountain huts in Tirol are open in the summer months from June until late September/mid-October, but much depends on the accessibility and snow conditions. Most serviced huts are closed in the winter, but a few leave an emergency shelter (winter lager) open for ski tourers and mountaineers.
A few mountain huts that have both summer and winter service are:
Dresdener Hütte (Stubai Alps)
Glungezer Hütte (Tuxer Alps)
Jamtalhütte (Silvretta Alps)
Stüdlhütte (Großglockner)
Langtalereck Hütte (Ötztal Alps)
Franz Senn Hütte (Stubai Alps)
Neue Bamberger Hütte (Kitzbühler Alps)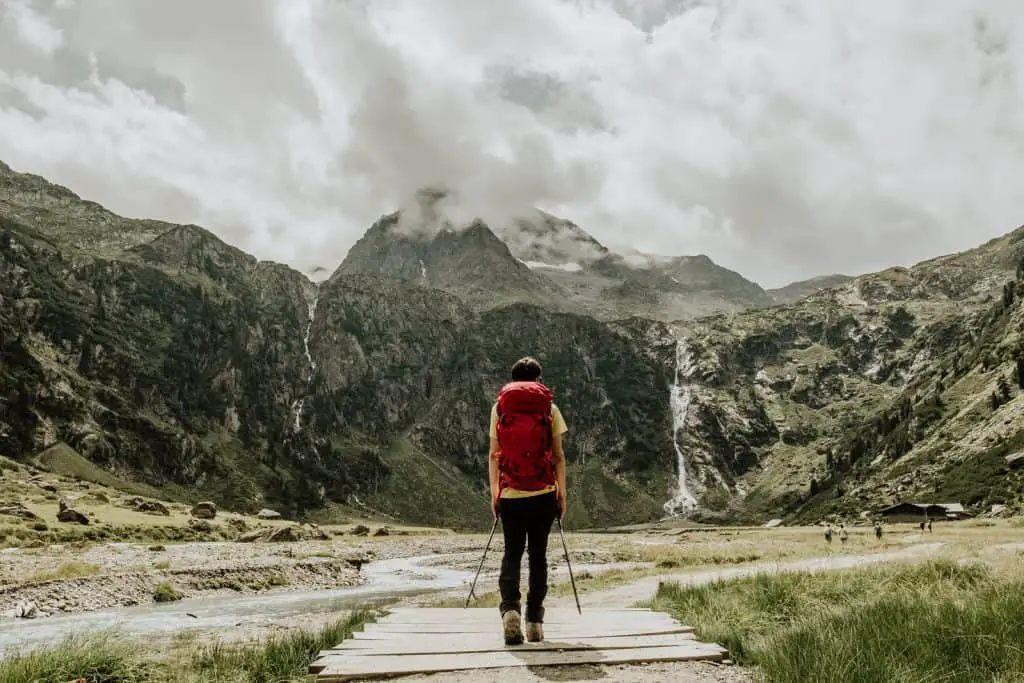 What To Pack For A Night In A Mountain Hut
As I'm sure you've realised by now, mountain huts don't quite offer the luxuries that you'll be used to if you've been staying in a hotel or an Airbnb. It's far more comfortable than camping, but it highly unlikely that they will have towels or toiletries, which means you'll need to bring things like that with you. Remember though, you're probably going to be hiking in and out, so you want to pack the essentials but don't overpack. Because every gram counts when you're hiking all day.
So what are the things that you should pack for an overnight stay in a mountain hut? Here's my list of mountain hut essentials for an overnight trip in summer:
35-50l Backpack
Gore-tex hiking boots
Trekking poles (optional)
Packable waterproof jacket & rain pants
Spare hiking socks
Warm mid-layer
Sunglasses, hat, sunscreen
Refillable water bottle
Phone + battery pack
Small wallet with plenty of cash and Alpenverein membership card
Headtorch
Hat, gloves & insulated jacket if you want to get up early for sunrise
Hut sleeping bag / sleeping bag liner
Travel towel & washbag
Clean underwear
Hut slippers (many huts have slippers you can borrow if you don't want to bring your own)
Waterproof bag/stuff sack for clean clothes & electronics to keep dry in case of rain
Camera & tripod for sunrise & sunset photography (optional)