Enchanting Sassolungo Circuit Hike in the Dolomites
Disclosure: This post may contain affiliate links, meaning I earn a small commission if you decide to make a purchase though my links, at no additional cost to you, which I'll probably spend on more outdoor gear and travel to cool places.
Discover the beauty of the Dolomites on the iconic Sassolungo circuit hike.
Introduction to the Sassolungo Circuit Hike
The Sassolungo massif mountain group separates Val Gardena (north) and Val di Fassa (south), as well as the Sella group to the east and the Rosengarten to the west. It looks down over the Alpe di Siusi (Seiser Alm), the largest high alpine pasture in Europe.
The magnificent Sassolungo peak (Langkofel in German, Saslonch in the local language of Ladin) is the highest peak of the Langkofel group, standing at 3181m above sea level (10,436 feet).
There are a number of absolutely stunning hiking routes around the Sassolungo, but the most popular are the Sassolungo circuit, the Sassopiato circuit, and the circuit of the whole Sassolungo group.
You may have seen different descriptions online for a "Sassolungo Loop" hike. Another variant of this hike is the larger circuit of the entire Sassolungo massif. However, in this blog post, I'll take you on the smallest of the loops – a circular hike around the Sassolungo mountain (the right peak in the image below).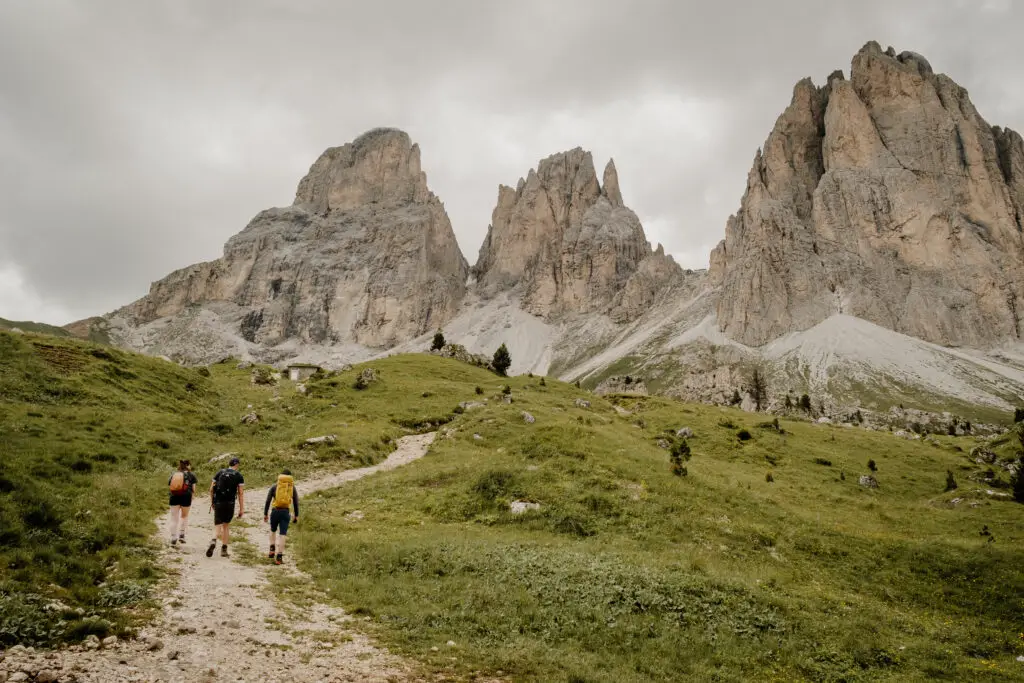 How To Hike The Sassolungo Circuit
Preparing for the Adventure: Essential Tips and Gear
The Sassolungo circuit hike isn't a technically difficult trail, but it should not be underestimated. The ascent and descent from the Forcella Sassolungo are relatively steep and rocky in places. The hike can be comfortably done as a day hike, but for an extra memorable experience, you could choose to stay overnight in one of the many mountain huts (Rifugio) that sit along the route.
For any hike in the Dolomites, I recommend the following gear:
Hiking boots with a good tread profile (trail running shoes are also ok for more experienced hikers)
Layered clothing including waterproofs
Hiking backpack with sufficient water & snacks
Sun protection (sunscreen, sunglasses, hat)
Mobile phone
First aid kit incl. emergency foil blanket
Cash for refreshments in the huts
Trekking poles (optional)
The emergency rescue number for the Dolomites is 112.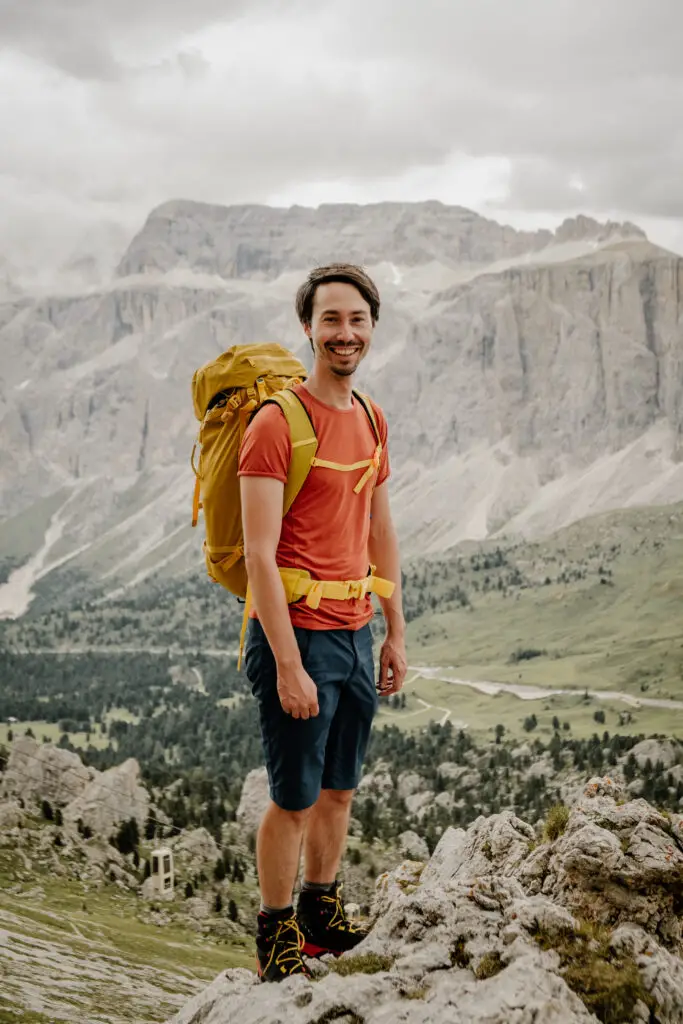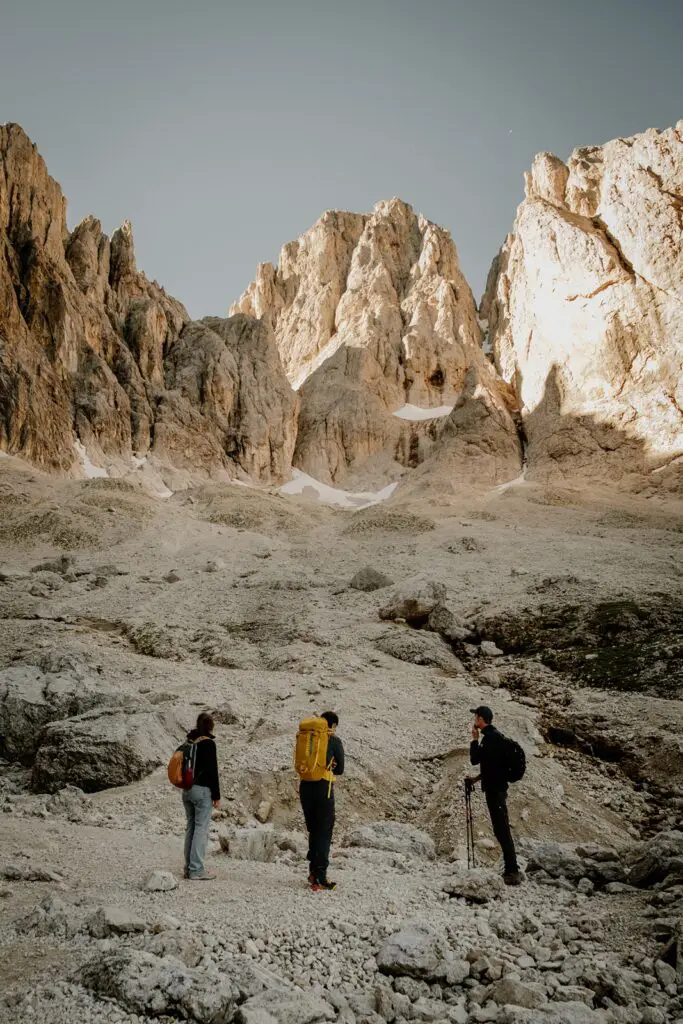 Navigating the Trail: A Detailed Route Guide
Trail details:

Distance: 11km / 6.8 miles
Altitude gain: 760m / 2487 feet
Hiking time: 4-5 hours (average pace with stops for photos and food)
Start & end point: Sella Pass
Starting from the Sella Pass, you head up under the lift. The trail is narrow in places, and is mostly switchbacks as you zig-zag up the side of the mountain. After around 1.5 hours of steep ascent, you reach the saddle (forcella), where the Rifugio T. Demetz sits.
From here, you descend towards the Alpe di Siusi, zig-zagging down a gravel trail through a rocky amphitheater. The descent is steeper in places, and has a couple of steel cables to help when things get slippy (after rainfall or in the spring when melting snow causes the trails to be wet).
As you exit the rocky section and leave this stunning puck amphitheater, you'll find the next mountain hut, Rifugio Vecenza. This is a great place to stop for a bit of lunch with a stunning view, before continuing further down.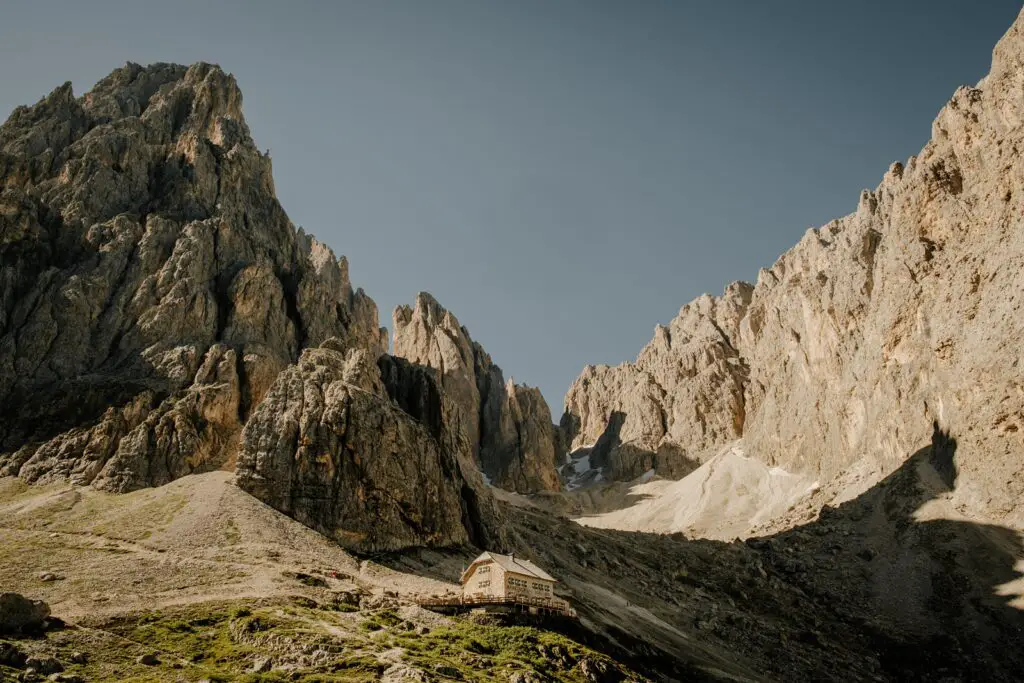 Shortly after Rifugio Vicenza, the trail bends around to the right, hugging the base of the Sassolungo. Large sections of this trail area flat, with only smaller ascents and descents.
There are a couple of trails along here, but if you follow the 526, this will take you back to the Sella Pass, via Rifugio Emilio Comici, a popular mountain restaurant, and though the Città dei Sassi (city of stones) back to the Sella Pass.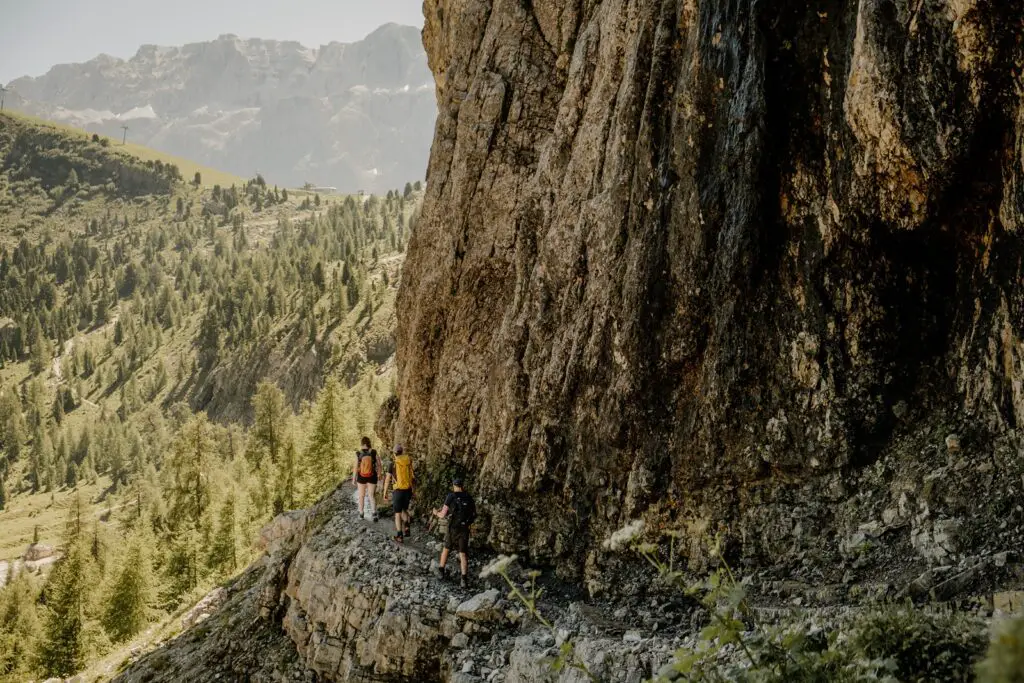 If you are starting the hike from the Sella Pass (which is where many people start), then I would recommend doing it in a clockwise direction. This enables you to tackle the steepest climb while your legs are still fresh.
Alternatively, you can start this hike from Val Gardena, taking the lift up from the valley to the base of the mountain. This will increase the length of the hike slightly. Alternative starting points include:
– Cable cars Ciampinoi
– Plan De Gralba
Challenges and Rewards: What to Expect on the Hike
If you are only in the Dolomites for a short period of time (which I hope you're not because there's so much to see here), then this could be a great hike to do.
The most challenging section of the hike is the ascent and descent to the Forcella del Sassolungo, the saddle between the mountains. This section is steep and rocky, with narrow sections and loose gravel in many places. This makes proper hiking footwear a necessity.
However, the views from the saddle at the highest point are breathtaking, looking back over the Marmolada glacier. And for those with a good eye, you might even find some wild edelweiss as well as a number of other beautiful alpine flowers.
Not only are the views at the top breathtaking, you can also stop for a drink and something to eat at Rifugio Demetz, or continue down towards the Alpe di Siusi and take a break Rifugio Vicenza.
If you want to make the hike easier, you can take the iconic coffin lift up to the saddle, removing around 1.5 hours of hiking time and a large amount of the elevation gain. But as they say, the best views come after the hardest climbs 😉.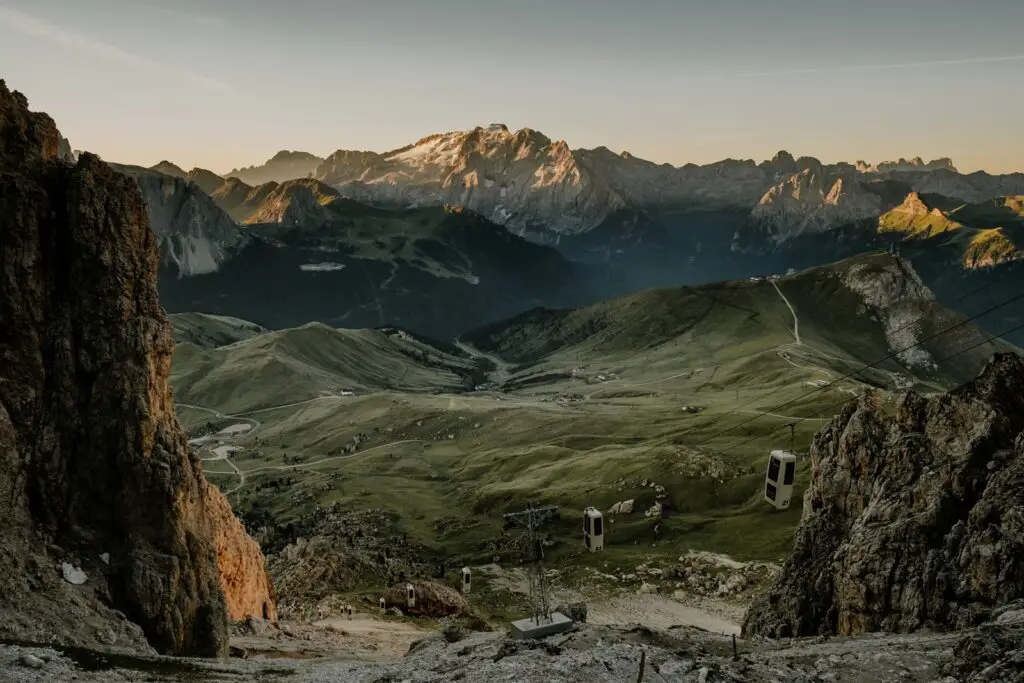 Safety First: Hiking Tips and Precautions
The mountains might be super easily accessible, but that doesn't mean you don't need to think about safety. In fact, because it's so easy to get out and explore in the Dolomites, lots of people get into difficulties every year because they weren't prepared for a day in the mountains.
While there are big parking lots, cable cars, mountain restaurants and marked trails, it's important to remember that you are in alpine terrain, and there are risks involved.
Trail Conditions
Trails are marked, but they are not regularly maintained. You may find areas of the trails covered in snow, or sections where rockfall or avalanches have washed away sections, and you'll need to find your way around. The local huts and tourist office often have a good idea of the conditions of the trails, so if you're unsure, ask them for an update.
Weather
You should never head out hiking without checking the weather forecast. Especially in the summer months, thunderstorms are a frequent occurrence, and it's not always just in the evenings. But rain, wind and even sun can make a big difference to your enjoyment and safety. If it's a particularly hot day, make sure you've packed enough water and sun protection. If there's a wind, bring a warmer layer. And always have a lightweight rain jacket in your bag just in case (it can also double-up as wind and sun protection).
Your Ability
This might seem really obvious, but knowing your ability, fitness level and comfort zones is really important. The biggest cause of emergency callouts in the mountains is for heart attacks. I love challenging myself too, but know where your abilities lie, and if you're unsure, start with something less challenging and work up. For many of my clients from the USA, even ones who are super fit, they are surprised at the steepness of trails in the Alps. Remember, you're also at elevation. It's not super high in the Dolomites, but even around 2000m/6500ft above sea level, your body may need some time to adjust if you're from a lower area closer to sea level.
Best Time to Visit: Seasons and Weather Considerations
Spring arrives at a different time every year in the mountains, meaning that some years the trails can be under snow until the early months of summer.
For that reason, this hike is best suited for late June to early October. However, it's important to check the trail conditions before heading out. We hiked the route in late July, and still found snow that we needed to cross in a few places.
During the summer months of June – August, afternoon summer storms are common. These storms usually build up during the warm summer days, and arrive in the afternoons with heavy rain, sometimes hail, thunder and lighting. Because of that, it's important to start your hike early, and plan more than enough time to be down from the mountain before the storms arrive.
By September, the storms are much less frequent, but still possible, as temperatures start to drop. September and October can be some of the best months to hike if you enjoy hiking in cooler temperatures.
However, it's really important to understand that the seasons are becoming more unpredictable. As I'm writing this post in mid-August, we've just had the second cold front in a few weeks, bringing fresh snow to the higher elevations. I've also experienced record high temperatures in November, where I was hiking in a t-shirt. So be prepared for anything and everything in terms of weather.
And in terms of crowds, June and September are the best times to come. July and August are peak season in the Dolomites, where not just Italy, but most of Europe are on their school summer vacations. That means overcrowding in many places, including on the Sella Pass and around the Sassolungo.
Sustainability & Leave No Trace Info – How To Minimise Your Impact
The Dolomites have become a bucket list location for travellers from around the world. And that's understandable, because the area is beautiful. However, sadly this has lead to a number of issues in this natural landscape, especially those arises from overcrowding.
The Dolomites is a fairly large area, but most tourists tend to stick to the well-known areas, like Val Gardena. So how can you visit this area, and minimise your impact?
Visit out of season
As I have mentioned above, July and August are the busiest summer months in the Dolomites. Accommodation gets booked up, mountain passes are lined with cars, and hiking trails become full of people, so the point that they are overcrowded. One way you can minimize your impact is to travel in the early or late season, when hiking conditions are still great, but there are fewer people around.
Stay Longer & Embrace Slow Travel
The longer you stay in a location, the better, especially if you are flying to get to the Dolomites. But once you arrive, you can also embrace slow travel.
What does that mean? Instead of driving around from location to location, and trying to see as much as possible in one day, consider moving a little slower. Hike or cycle around. You might see fewer locations, but you'll get the chance to really see and experience them.
I'll admit that public transport hasn't traditionally been great in the Dolomites, but this is slowly changing. Buses are starting to become more frequent between the most popular locations. If you are able to take a bus, not only is this better for the environment, but you'll save yourself the stress of trying to find a parking spot (not to mention the expense, as parking isn't cheap).
Even better, consider a multi-day trek, with overnight stays in mountain huts (refugios). The Dolomites has some of the most spectacular multi-day routes in Europe.
Choose Sustainable Accommodation
There are a few things you can consider when looking at your accommodation, to find the most sustainable options. These include:
Choosing a hotel that's locally owned and run (instead of being part of a larger chain)
Choosing a hotel without a wellness/spa facility
Looking for accommodation with sustainability certifications
Hire Local Guides
Another large part of sustainability is hiring locals and putting money back into the places where you are visiting. Whether you're looking to try your first via ferrata or simply want a guide to organize your hikes for you, hiring someone locally rather than a guide from overseas helps support the local economy and local communities.
Practice "Leave No Trace"
Practicing Leave No Trace should really be the bare minimum requirement for responsible travel, not just in the Dolomites, but anywhere in the world. Leave No Trace is all about reducing your impact, so that these beautiful locations look the same for the next person (and future generations) to enjoy.
For this particular hike this includes:
Planning ahead and preparing for your hike
This includes researching the trail, the conditions, the weather, and making sure you're correctly prepared for your adventure, including suitable clothing and equipment.

Respect Wildlife
Hiking around the Sassolungo, you'll come across high alpine pastures, where sheep, cows and goats graze freely. While they are often used to people being around, these alpine pastures are not a petting zoo. It's important to keep your distance and not approach these animals, and definitely don't try to feed them, even if they do come over to you. And if you're hiking with a dog, keep them on a short leash and be prepared to let go if animals start to get aggressive.

Leave Nature As You Found It
This means not only making sure that you take home all your trash, but also that you resist the urge to pick wildflowers (many species here are protected), remove rocks, build cairns or leave any markings on any stones or trees.

Stay On Marked Trails
Trail erosion happens when increasing numbers of people start to go off the trail. Paths get unnaturally widened, which can contribute to ground erosion. To avoid causing unnecessary damage, stay on marked trails.
If you want to learn more about Leave No Trace and how to be more responsible in the outdoors, I highly recommend the free mini course from LNT.org
Parking on the Sella Pass
I feel like I need to add an extra section to talk about parking for this hike, as parking on the Sella Pass can be problematic.
There used to be free roadside parking just before you reached the top of the pass, but almost all of these places have now been given restrictions, and only allow you to stop there for a maximum of 30 minutes. That only leaves you the option to park on the Sella Pass itself.
There are two open parking lots on the Sella Pass, which are both paid, and in high season, fill up fast. For 24 hours of parking (we stayed up in Rif Demetz overnight) it was almost €25.
Finding Accommodation: Lodging Options and Recommendations
Choosing the right accommodation in the Dolomites is an important factor to help you reduce the amount of time you spend on the roads every day, and can help eliminate the stress of parking as well as the congestion on the roads.
For the Sassolungo hike, there are actually two lovely places to stay right on the Sella Pass:
Alternatively, I recommend staying in nearby Sëlva or Canazei
Other Activities: Beyond the Hike
There is so much to do in this area, whatever kind of adventure you are looking for.
The area is super popular with both road cyclists and mountain bikers, especially with the new Sassolungo bike park.
For climbers, you're in a climbing paradise here. From the traditional multi-pitch trad climbs of the Sella group and Sassolungo, to the beginner-friendly sport routes of the Città dei Sassi.
And of course, there are endless other epic hiking opportunities in this area.
Conclusion: Sassolungo Circuit Hike – A Dolomites Must-Do
If you're planning to spend time around the Val Gardena area in the Dolomites, then the Sassolungo circuit hikeshould absolutely be on your list of amazing day hikes. Or you can do as we did, and overnight in one of the mountain huts to make it a truly unforgettable experience.

> Related Reading: What To Expect For Your First Mountain Hut Experience
Sassolungo Circuit Hike – A Photo Gallery
Save This Post