Europe's Best Multi-Day Hikes
Disclosure: This post may contain affiliate links, meaning I earn a small commission if you decide to make a purchase though my links, at no additional cost to you, which I'll probably spend on more outdoor gear and travel to cool places.
When I think of multi-day hikes, my mind first goes to Reese Witherspoon as Cheryl Strayed hiking the Pacific Crest Trail in the USA in the movie Wild. But the USA isn't the only place with epic long-distance trails. Europe has some incredible multi-day hikes too.
Adventure holidays and multi-day hiking trips are becoming increasingly popular as more people are seeking active and outdoor experiences. Since living in the Alps and becoming a hiking guide, I've developed a love for hiking and the challenge of a multi-day trek. A few years ago I wrote a post 5 of Europe's Best Multi-Day Hikes on a blog I used to run, and now that I've discovered so many more options, I decided it was time for a new updated version here on my own site.
Hiking In Europe
Hiking in Europe is so vast and varied. From the high mountains of the alps to the fjords of the far north and the beaches of the Mediterranean, there are hikes that take you through every type of scenery that you could imagine.
Lots of Europe's multi-day hikes in the mountains are combined with sleeping in mountain huts, but those that are in more populated areas give you more flexibility in where you stay, such as local B&Bs. Some trails even allow you to wild camp along the route.
Hiking a multi-day route in Europe allows you to see parts of the landscape that you wouldn't otherwise get to see, meet incredible people along the way, and experience more of the nature and culture of the place you are visiting outside of the main tourism hotspots. And when you are traveling from place to place mostly by foot, you're also traveling more sustainably. To make your travel even more sustainable, consider traveling around Europe by train with a Eurail pass.
Discover Europe by train | Find your Eurail Pass
Adlerweg – Eagle Walk, Austria
Best months: June – October
Duration: 24 Days for North Tirol, 9 Days for East Tirol
Distance: 413km / 256 miles
Difficulty: Moderate-Difficult
Overnights: Mountain Huts
Start/End Point: St Johann in Tirol – St Christoph am Arlberg (North Tirol), Ströden – Kals (East Tirol)
The Adlerweg is a 33-stage long-distance trail across the Tirol region of the Austrian Alps. The route got its name as when it's drawn out over a map, it looks like a bird in flight. 24 of the stages are in North Tirol and 9 are in East Tirol. The different stages vary between moderate and challenging hiking, with some sections that require a scramble or via ferrata.
Each stage is broken up with a night in a mountain hut (berghütte in German). Especially over the summer months (July & August) you should reserve your place in the huts in advance as they do get booked up during the peak season. Huts will never turn people away who don't have a reservation, but you could find yourselves sleeping on the floor if they are fully booked and you didn't book ahead. Wild camping is not allowed in Tirol.
View the stages of the Eagle Walk
Get a copy of the Cicerone Adlerweg Guidebook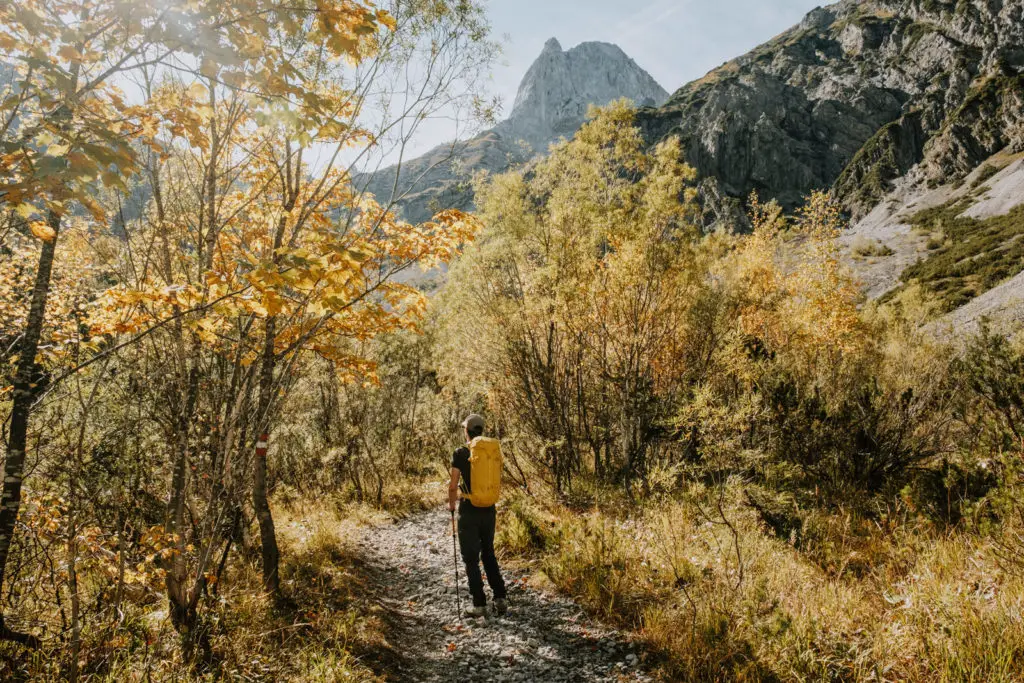 Read more about staying in a mountain hut
Alta Via 1 & 2 – Dolomites, Italy
Best months: July – September
Duration: 8-10 days
Distance: 120km / 75 miles
Difficulty: Moderate-Difficult
Overnights: Mountain Huts
Start/End Point: Lago di Braies – Belluno (Alta Via 1), Bressanone – Croce d'Aune (Alta Via 2)
The Alta Via routes in the Dolomites are iconic. The Alta Via 1 is the most famous route, that cosists of 11 stages that pass some of the most well-known locations in the Dolomites. The Alta Via 1, while physically challenging, doesn't include technical terrain. It's suitable for most levels of hikers as long as they are physically fit and don't have a fear of heights, as some terrain, while not technically difficult, can be steep and exposed in places.
Accommodation is in mountain huts, which book up fast in the summer months, so booking in advance is essential.
For those up for more of a challenge, consider the Alta Via 2, which offers spectacular views and more challenging terrain, including some sections of via ferrata.
West Highland Way
Best months: April – October
Duration: 5-8 days
Distance: 154km / 96 miles
Difficulty: Easy-Moderate
Overnights: Hotels, Camping, Guesthouses
Start/End Point:
The West Highland Way is arguably Scotland's most famous multi-day hike. Most hikers undertake this route from south to north, so that the most challenging terrain comes at the end of the trail. The hike travels through some of the most beautiful landscapes of the Scottish Highlands, including Glencoe and Loch Lomond, and ends at the base of Ben Nevis, the UK's highest mountain.
While the trail can be hiked year-round, in the winter months it should only be tackled by experienced hikers with winter skills. June-August are the worst times for midges, so consider May, September or October.
Accommodation can be as wild or as civilized as you like. If you want to wild camp, you are allowed to do so in Scotland. But if you prefer to spend your nights in the warm, there are plenty of options for hotels and B&Bs along the way.
Official West Highland Way Website
Buy the West Highland Way Cicerone Guidebook
Hikers Haute Route
Best months: late June – mid September
Duration: 10-15 days
Distance: 174 – 227km
Difficulty: Difficult
Overnights: Mountain Huts and/or village stays
If you dream of hiking between two of the most iconic destinations in the Alps, through high-altitude terrain, then this might just be the multi-day hike in Europe for you.
The hiker's Haute Route takes you from Chamonix in the French Alps to Zermatt in the Swiss Alps. Crossing high mountain passes, sleeping at altitude in mountain huts, vising quaint alpine valleys and marveling at incredible peaks and glaciers, this route is an adventure from start to finish.
There are different variations of the route, including a more-technical one for mountaineers that involves glacier travel. But for those who don't have mountaineering experience, it's possible to also do variations of the route that don't involve technical glacier terrain.
Buy the Cicerone guidebook for Trekking from Chamonix to Zermatt here
Camino de Santiago
Best months: May – October
Duration: 10-30+ days (depending on the route chosen)
Difficulty: Easy – mostly flat walking paths
Overnights: Village stays in B&Bs, abbys, monasterys & hotels
The Camino de Santiago (also known as the Way of St James) is not a single hiking route, but rather a network of different long-distance hikes that all lead to the Tomb of St James in Santiago de Compostela in north-west Spain. Whilst these routes were originally pilgrimage routes, they are now popular long-distance treks for avid hikers.
The routes are all generally pretty easy and stay on relatively flat terrain, so you don't need to be an experienced hiker for this one.
Related Posts:
Save this post for later