Adventure Travel in Jordan
Disclosure: This post may contain affiliate links, meaning I earn a small commission if you decide to make a purchase though my links, at no additional cost to you, which I'll probably spend on more outdoor gear and travel to cool places.
For those looking for a truly unique and thrilling adventure, Jordan is the perfect destination. From its ancient cultural sites, to its stunning desert landscapes, to its famous Red Sea resorts, this small Middle Eastern country has something for everyone. Whether you're a history buff or an adrenaline junkie, adventure travel in Jordan is on the rise, so it's time to add it to your bucket list.
9 of The Best Adventure Travel Activities In Jordan
Jordan is an amazing destination for adventurous travellers looking for thrilling activities. From hiking to climbing, from scuba diving to biking and jeep driving – the Middle Eastern country offers a wide range of exciting activities that will make your trip an unforgettable experience. Whether you are an experienced traveler or just starting out on your adventure journey, Jordan has something for everyone. Get ready to explore the great outdoors, as I take you through some of the best adventure travel activities in Jordan!
Hiking
Jordan is an amazing place to go hiking! Whether you're looking for an easy scenic hike or a multi-day trek, there's something for everyone. With its stunning landscapes, breathtaking views and incredible trails, Jordan is an outdoor enthusiast's dream come true.
From the rolling hills of the Dana Biosphere Reserve to the rugged terrain of Wadi Rum, Jordan offers hikers plenty of variety to explore. From gentle walks along ancient pathways to challenging climbs up steep mountainsides, no two hikes are ever alike. Plus, with its rich history and cultural significance, every step taken will be filled with discovery and adventure!
>> Related reading – The Best Hiking Trails in Petra <<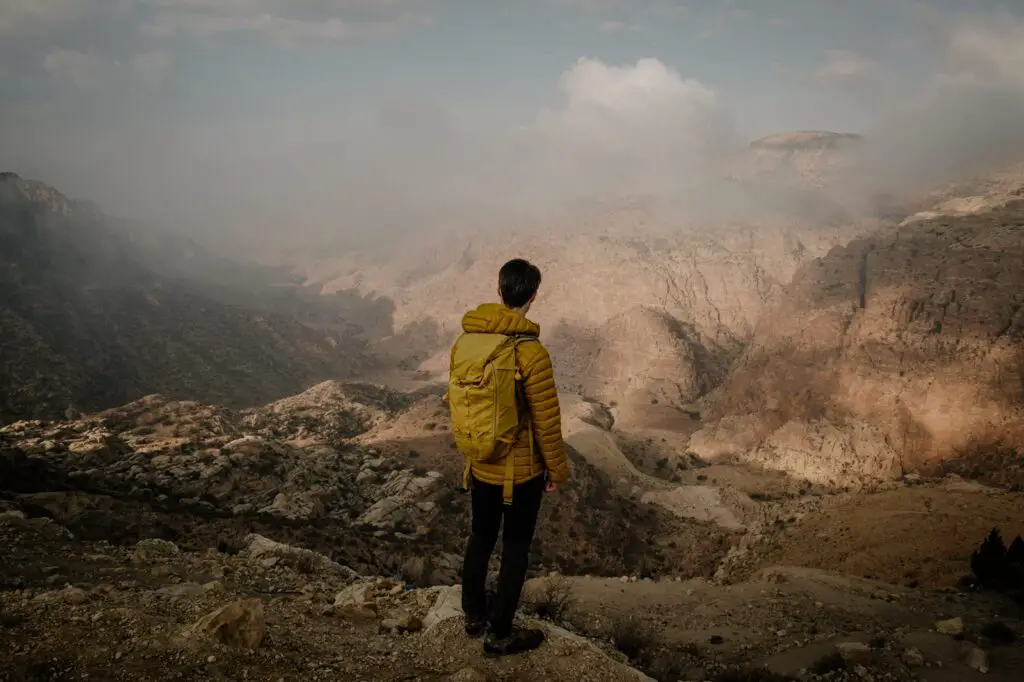 Scrambling
If you're looking for a thrilling outdoor adventure, scrambling in Jordan should be at the top of your list! With its breathtaking rock formations, steep ascents and varied terrain, this activity is a great way to explore the country's stunning natural beauty.
Scrambling involves climbing through rocky areas using your hands and feet for assistance. You don't need any previous experience or special equipment to take part – all you need is an adventurous spirit and a willingness to challenge yourself! Scrambling can be as easy or as difficult as you like depending on which route you choose and how experienced you are.
The best part about scrambling in Jordan? You'll get incredible views from some of the most isolated spots in the country – perfect for those wanting to escape from civilization and enjoy some time exploring nature without any distractions.
Rock Climbing
Rock climbing in Jordan is an up-and-coming sport, and an exciting adventure for climbers of all levels!
From sport climbing and trad climbing to bouldering and technical scrambles with abseils, the country offers numerous opportunities to explore its stunning landscape. With plenty of routes suited for beginners and experts alike, there's something for everyone in this Middle Eastern kingdom.
While Wadi Rum is definitely the main hotspot of Jordan's rock climbing scene, there are opportunities for climbers in other areas too.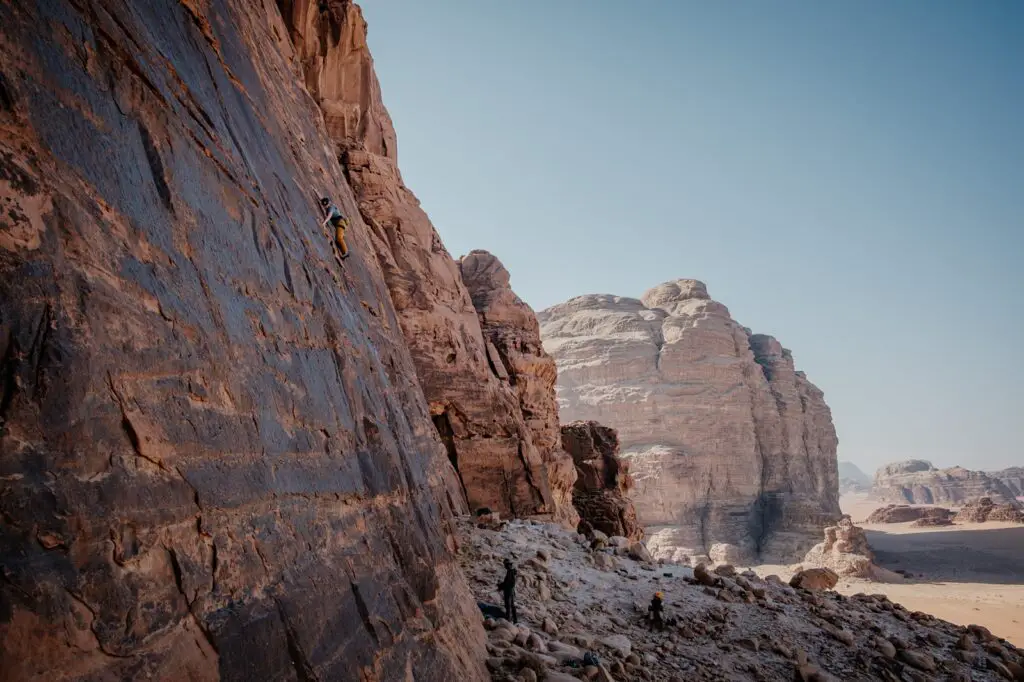 Hot Air Balloon Flight
For the chance to see the Wadi Rum desert from above, a hot air balloon flight is not to be missed. Balloon flights take off in the early mornings, so you get to witness the breathtaking sunrise over Wadi Rum.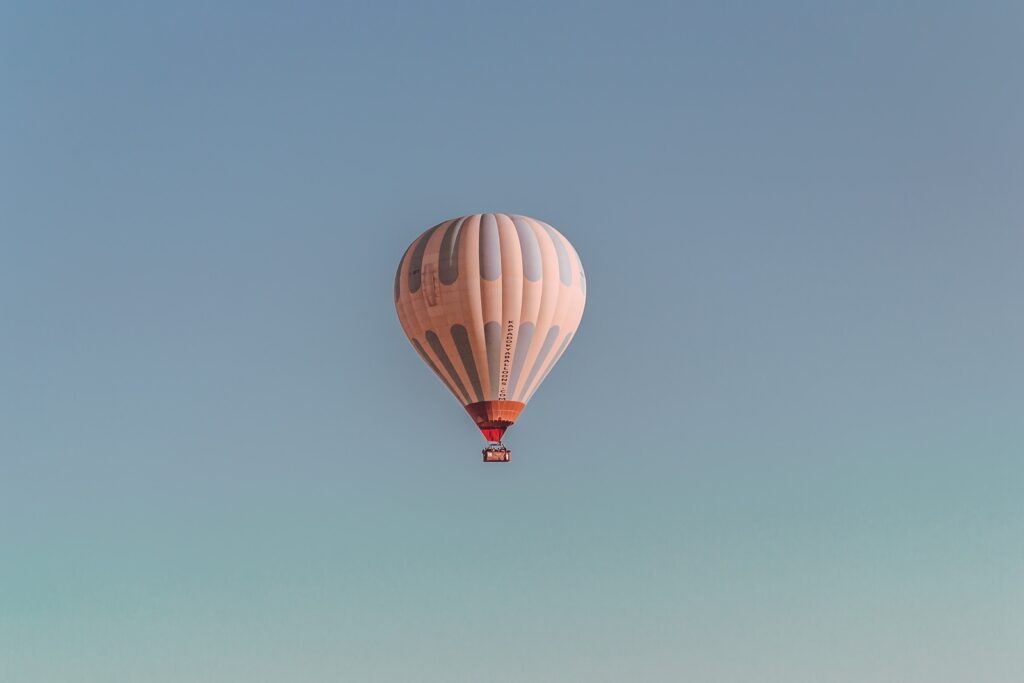 Scuba Diving & Snorkelling
Jordan is known for its iconic ancient ruins. But its underwater world is just as stunning and a perfect spot for scuba diving or snorkelling.
The warm waters of the Red Sea offer an abundance of marine life that makes it ideal for exploring the depths beneath the waves. From colourful coral reefs to sea turtles, there's plenty to discover on your underwater journey. Not to mention the fascinating wrecks of planes, tanks and helicopters that add a whole new level of exciting things to explore.
For those seeking a watery adventure, Jordan has some great spots for both snorkelling and scuba diving. With crystal clear waters and incredible visibility, you can explore all sorts of hidden treasures in these magical waters!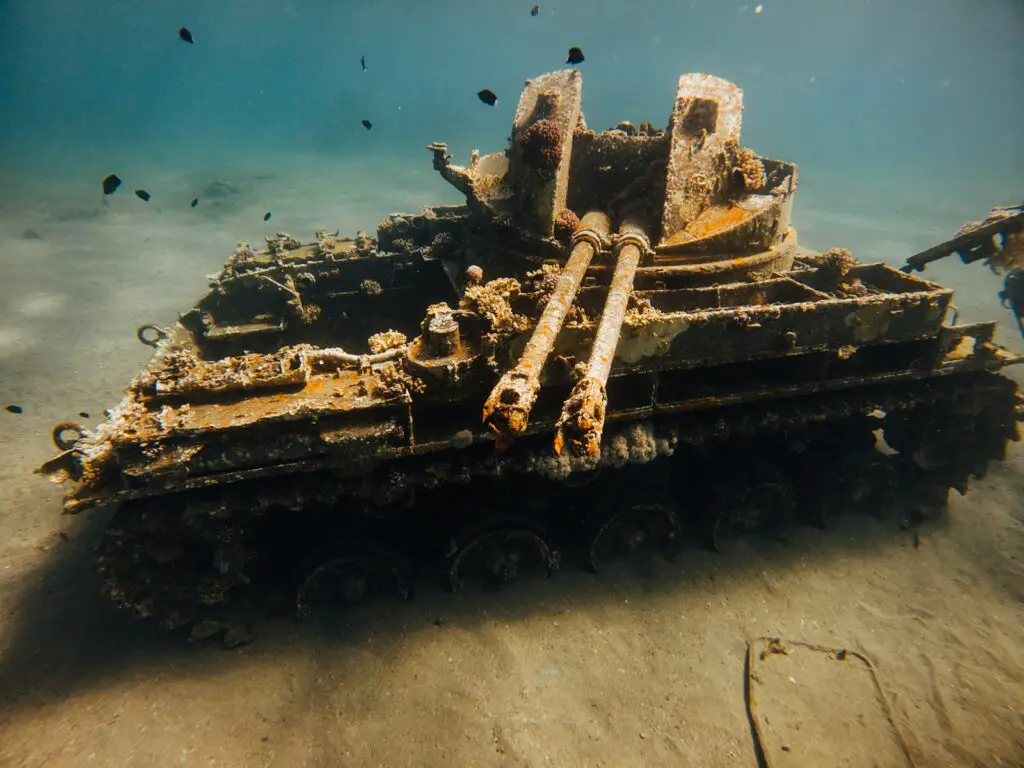 Swim in the Dead Sea
Swimming in the Dead Sea is an experience not to be missed! Sure, it might not be as adrenaline-filled as some of the other activities I've listed, but it's certainly one of the most unique.
Located at the lowest point on Earth, this salt lake offers a unique opportunity to float effortlessly on its waters. With more than eight times the salinity of the ocean, your body will become buoyant and you won't even have to move – just relax and drift.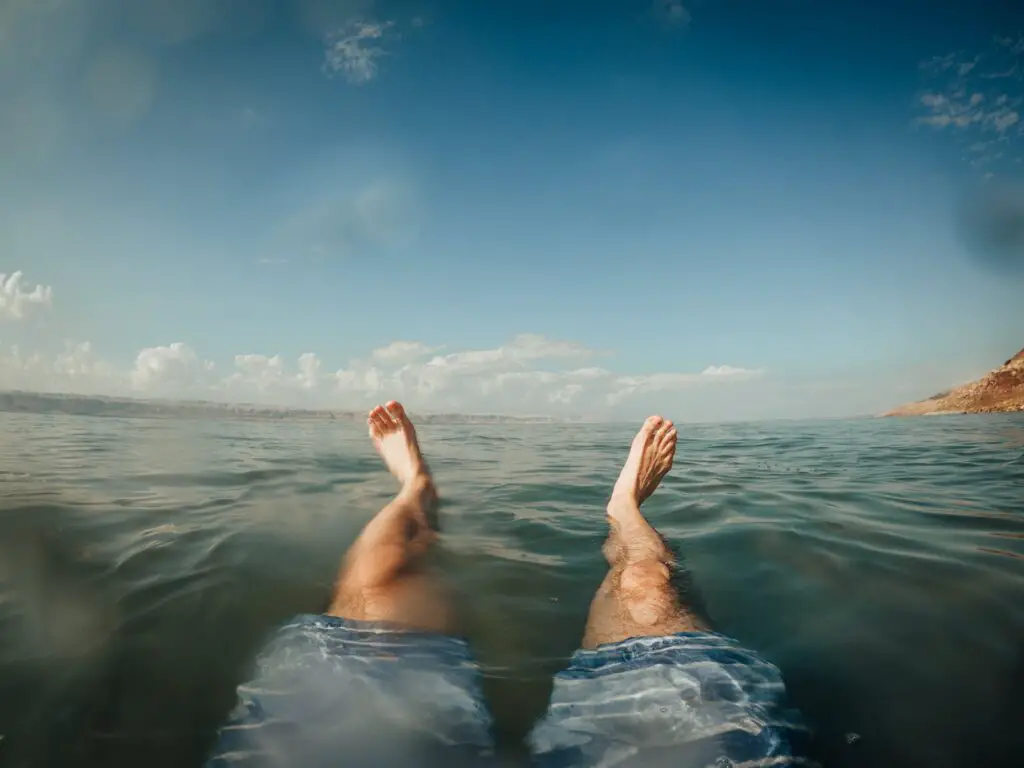 Bathe In Hot Springs
Another activity that's perfect for a relaxing day after your wild desert adventures is to bathe in Jordan's hot springs.
The most popular hot springs are Ma'in Hot Springs also known as Hammamat Ma'in, situated between the Dead Sea and Madaba. With a 5* hotel next door, guests can bathe in the hot springs from 6-9am, before they open to the public.
One tip – enter the water very slowly. Because the water is from natural hot springs, they can become extremely (almost scalding) hot!
Desert Jeep Tours
Jeep tours are a popular way to explore the unique landscape of sandstone mountains, rolling dunes, and ancient rock engravings of Wadi Rum. Taking a jeep tour gives you the opportunity to see a vast amount of the area, which is perfect if your stay is short. Most jeep tours will end with sunset, allowing you to witness the magnificent sunset over the desert of Wadi Rum.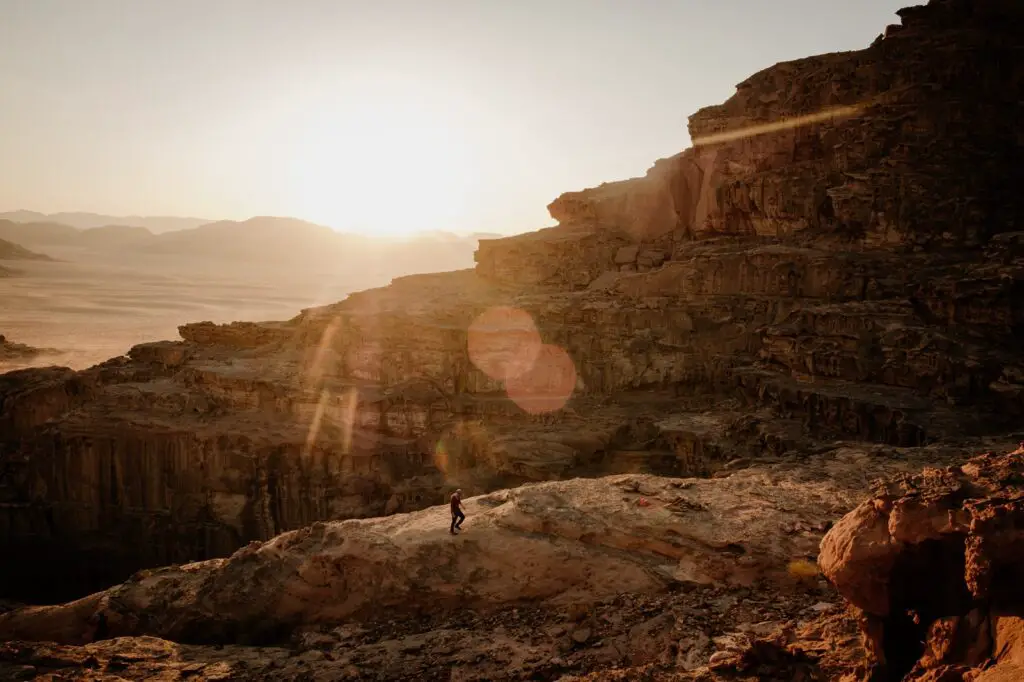 Camel Safari
I've included this on my list, as it is an activity on offer in a few locations in Jordan. However, during our visit, we did not ride camels, as we had concern for the welfare of the animals. We saw many camels with huge scars on their skin, and even saw them eating plastic trash that was lying on the floor. While camels in Jordan are technically domestic animals, there are only limited welfare laws for animals in Petra, not nationwide, and even in Petra, we did not like how any of the animals were treated.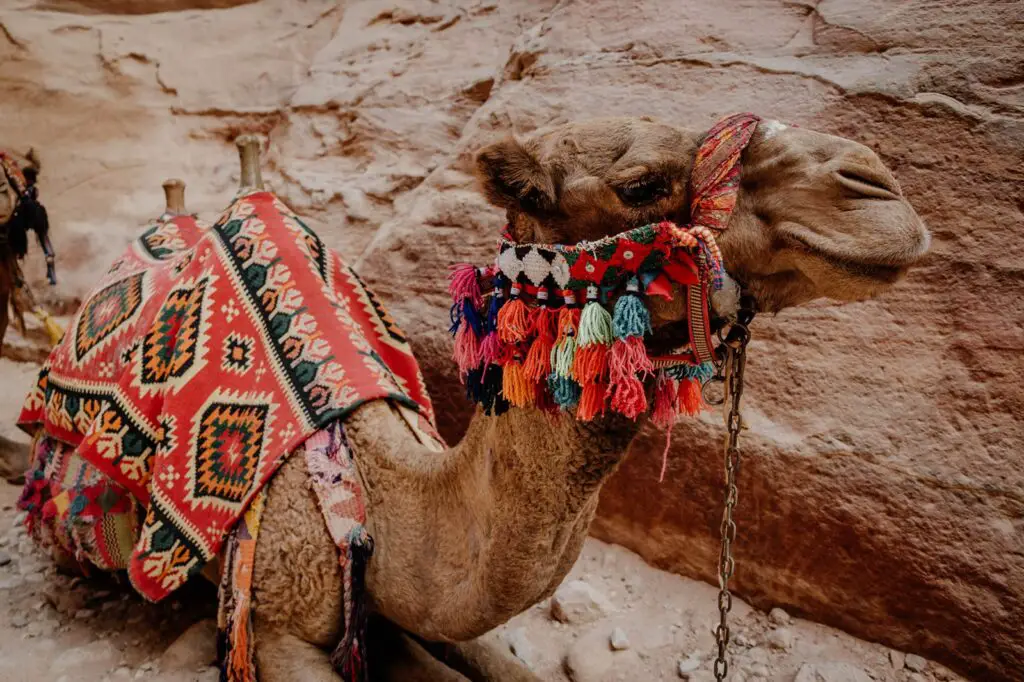 Summary
Jordan is an incredible country full of natural beauty, amazing historical sites and epic adventure activities. From climbing in the desert to floating in the Dead Sea, this country has something to offer everyone looking for an unforgettable experience. So if you're ready for a thrilling and unique adventure, don't hesitate to book your trip to Jordan! This journey will no doubt be one of the most memorable experiences of your life!#