Rock Climbing in Malta – A Winter Climbing Paradise
Disclosure: This post may contain affiliate links, meaning I earn a small commission if you decide to make a purchase though my links, at no additional cost to you, which I'll probably spend on more outdoor gear and travel to cool places.
After a wet and miserable summer in the Alps, we decided to look for somewhere to take a short holiday in Europe at the start of November where we could get in some winter climbing at warmer temperatures. After a lot of research, we settled on Malta. While Malta didn't seem at first glance to be a particularly well-known winter rock climbing destination in Europe, it turned out to be an absolutely incredible place for a climbing holiday.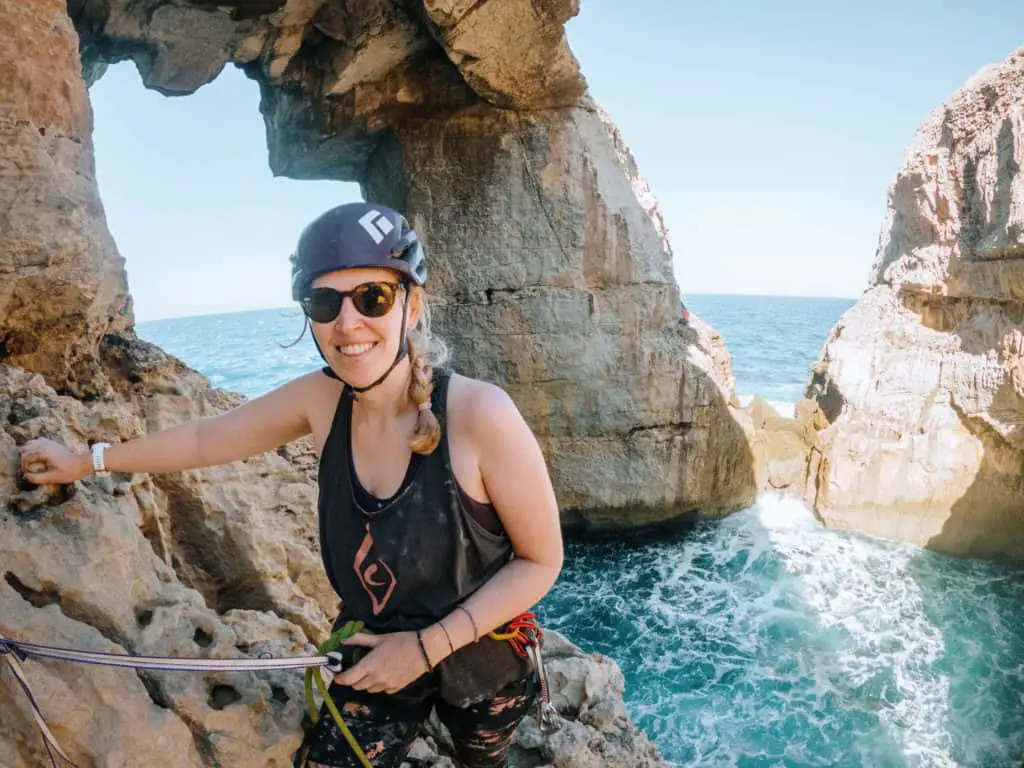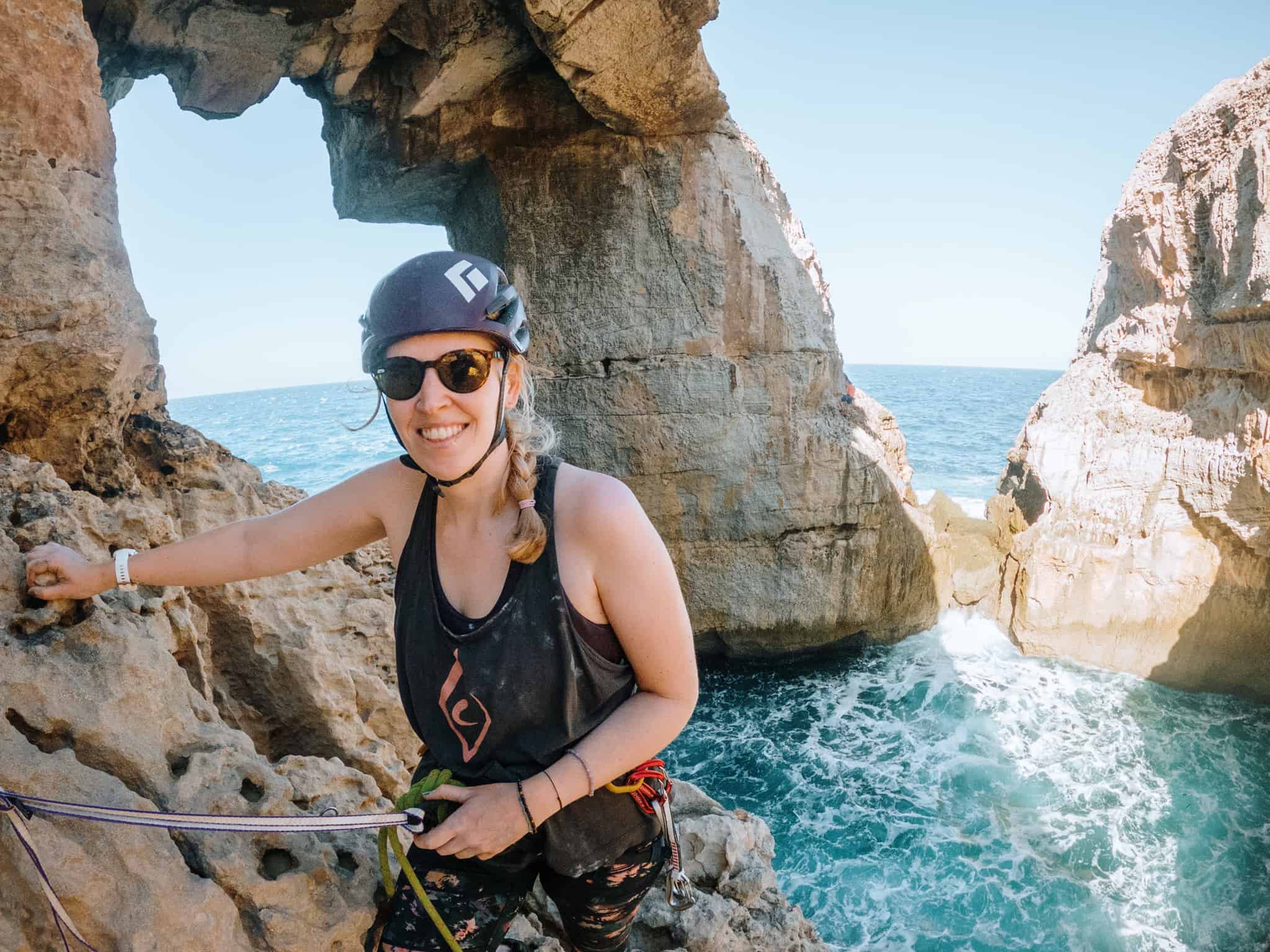 Sport Climbing In Malta & Gozo
People have been climbing in Malta for many years. Being a former British colony with military bases, hundreds of British-style trad routes were climbed all over the islands. However in recent years, and a small number of local climbers have come together to bolt a huge number of routes and write a guidebook to establish Malta as a serious destination for sport climbers too.
Between Malta & Gozo, there are over 500 bolted sport routes, ranging from grade 3 up to 8c+. You'll find inland valleys, large boulders, and breathtaking sea cliffs. There are lots of single pitch routes, but also a large selection of bolted multi-pitch climbs too. And for those visiting in the warmer months, there are also some places for deep water soloing.
But honestly, our favorite thing about climbing in Malta (aside from how great the climbing is) was the fact that it's still fairly unknown as a climbing destination. During our whole trip, we only saw a handful of other climbers which was great as I really don't like climbing in busy areas.
Climbing on Gozo
The island of Gozo is much smaller than Malta, but it's also much less densely populated and with many crags to choose from.
Mgarr ix-Xini
On our first day on Gozo we wanted to start off with some easy routes, so we went to Mgarr ix-Xini which has a number of routes in the 4 and 5 grades. The area is in an inland valley, which is quite densely vegetated (including quite a lot of brambles) and the paths to the crags are not all so clear when they haven't been trodden down recently, as the undergroth grows back.
The routes here are mostly short and well protected, and for more experienced climbers there are also some more challenging routes in the 6 and 7th grades.
If you climb here, don't forget your mosquito repellant, even when climbing in winter. We did, and got eaten alive (and therefore didn't take any pictures, sorry).
Learning To Climb Sea Cliffs in Malta – Wied Il-Mielah
Wied il-Mielah is an iconic location, with a stunning sea arch similar to the Azure window. It's also perfect place for easy sea cliff climbing, with routes all around the arch. It also has a number of routes away from the sea cliffs in the valley if you want to climb near the ocean but not over it (see photo below of the narrow valley that widens as it reaches the ocean).
While there are easy routes starting from 3+, climbing experience is essential here, as you need to abseil down to the routes. The routes here have been climbed lots, but the rock is amazing. It's also razor sharp, meaning you don't want to take a fall here.
Since we had no experience in climbing sea cliffs, we hired local climbing legend and guidebook author Stevie Haston to show us the ropes (literally). Since Stevie bolted most of the routes on Gozo, including Wied il-Mielah, he knew the best routes to take us on. Our favourites were Gozo Gozo Gone 3+ and Thirty Minutes To Sunset 5c+, both of which follow aretes on the sea arch with some great exposure and incredible views.
Climbing on Malta
On Malta there are more crags in the guidebook than on Gozo, but since there were more options in our grade range on Gozo, we spent most of our climbing days there. We did however squeeze in one last climb on our final afternoon in Malta, and chose a stunning multi-pitch climb overlooking the spectacular Blue Grotto.
We chose a 3-pitch route called Rosa di Malta (4, 4+, 5b) and just as the guidebook promised, the views were incredible. We also timed our climb close to sunset, and the light was just perfect.
Malta & Gozo Sport Climbing Guidebook & Topos
If you are looking for a guidebook & topos for Malta & Gozo climbing, you should get a copy of the guidebook written by Simon Alden, Jeffrey Camilleri & Stevie Haston, published in 2013. These 3 guys are primarily responsible for bolting the majority of the routes in Malta.
You can buy the guidebook at maltaclimbing.com. Sale profits go directly to the local climbing community who are responsible for establishing the routes and their upkeep.
Climbers Packing List For Malta
For the sea cliffs and some of the multi-pitch routes you may also need:
Planning Your Climbing Trip In Malta
Where is Malta?
Malta is situated in the middle of the Mediterranean, 50 miles south of Sicily. Malta isn't just one island but actually an archipelago. However, it's only the 3 largest islands of Malta, Gozo and Comino that are inhabited. The primary language of Malta is Maltese, but being under British rule for many years, English is the second official language.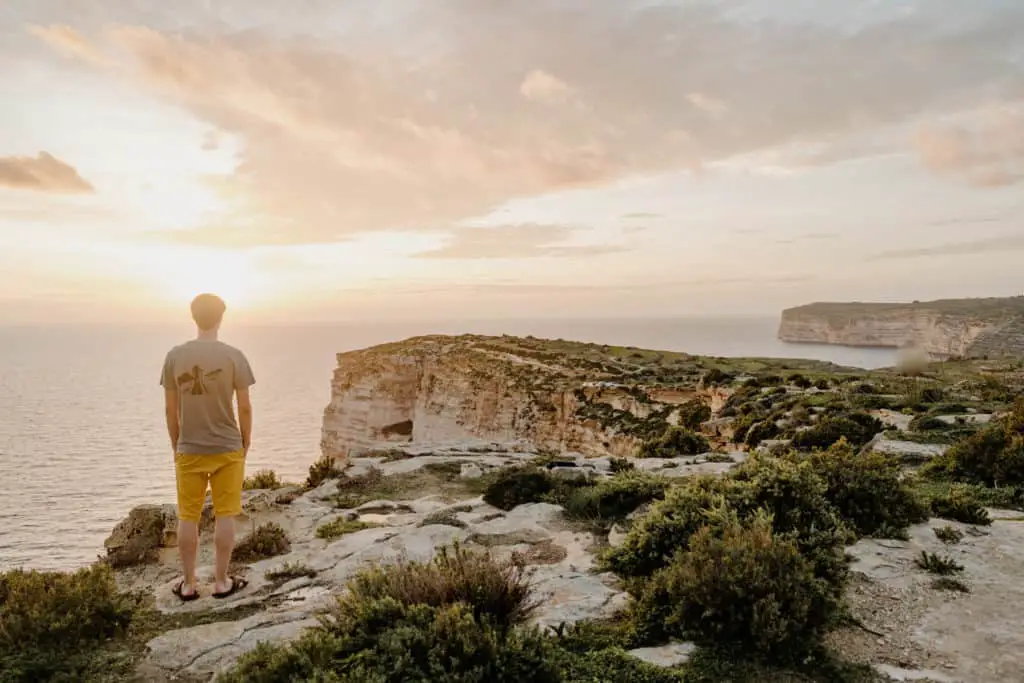 What's the weather in Malta like?
Malta has a Mediterranean climate, which means hot summers and pretty mild winters. The coldest months are usually January and February, with temperates usually around 15°C and above. Malta in general is a pretty dry area, with an average of 90 days of rainfall a year. These rainy days do however tend to fall in the winter months, with December having an average of around 15 days (according to Maltaweather.com). During our 10 day trip we had two half days of rain.
How to Get To Malta
You can fly to Malta from a lot of major European cities in around 2 hours. There are a few budget airlines as well as Air Malta, and honestly, if you're taking climbing equipment, you may end up spending less if you fly with Air Malta. The experience is also much more enjoyable than a budget airline.
Find out more about Air Malta routes & prices
How To Get Around
Public transport in Malta is pretty good for the main tourist destinations but for a lot of the climbing areas you're probably going to want to rent a car, especially for climbing on Gozo, as some of the crags are a bit out of the way.
Because there are so many small and narrow streets around Malta & Gozo, I recommend hiring a small, compact car. If you hire a car, be aware that they drive on the left in Malta.
Where To Stay
We split our time between Malta & Gozo, and stayed in a mix of self-catered accommodation and some luxury hotels. Outside of the high tourism season in summer (which isn't the ideal time for climbing anyway) you can find even luxury accommodation for great rates, often under €100 a night.
We chose a lovely farmhouse-style apartment on Gozo called Razzett Ghasri which was perfectly situated for the areas we wanted to climb (although Gozo is small and driving from one side to the other won't take you more than 30 minutes anyway).
On the main island of Malta, we decided to stay in some 4* and 5* hotels since the prices were so reasonable at that time of year.
If you are looking for somewhere close to the airport, we loved Talbot & Bons B&B. The place had so much character, and because we were leaving on an early flight, the owners left us a packed breakfast in the room. We also enjoyed our stay at The Village Hotel & Spa in Naxxar, although we did keep driving past it as the entrance is hidden in a narrow alley off the road.
Rest Day Activities
There is so much to do on Malta & Gozo that you'll probably want to include some "rest days" from climbing for doing a bit of sightseeing too (at least we did).
Places to visit on Gozo:
Victoria (Rabat) & the Citadel
Victoria is the main city on Gozo and up on the hill is the citadel which is free to enter and to explore.
Wied il-Ghasri
A picturesque valley leading to the ocean (with clear blue water when the ocean is calm) and some nearby disused salt pans.
Xlendi Tower & Salt Pans
The main salt pans that are still in use are near Marsalforn, but we came across these ones around Xlendi Bay and found this area much prettier.
The Stunning Coastline
Just driving around the coastline and exploring the cliffs, especially around sunrise and sunset should't be overlooked. We caught some stunning sunsets while exploring the Gozo coastline.
Places To Visit in Malta
If you're staying on the main island of Malta, Valletta, the 3 Cities and Mdina should be on your itinerary.
Valletta
Valletta is Malta's capital city, although unsurprisingly, it's pretty small. But if you are interested in old architecture, beautiful stone streets and want to feel like you've be transported back in time, you'll love exporing here.
The Three Cities
Just a short €3 ferry ride across the water from Valletta are the 3 Cities. You'll find more quaint side streets, fortified buildings and harbors with superjachts over here.
Mdina
Mdina is a beautiful fortified city inland on the island of Malta. For Game of Thrones fans, Mdina is a must-see as a couple of locations were used for filming during season 1. When you walk around here, you feel like you could be walking the streets of Kings Landing.
Why Should You Consider Malta For Your Next Climbing Holiday?
I really can't recommend Malta highly enough for an off-season/winter climbing trip in Europe. Whether you are quite new to climbing or you're looking for hard routes to send, Malta has so much to offer. The travel and accommodation is pretty budget-friendly if you don't want to spend much, but you can also get a bit luxury for a really good price too. And for the days when you're not climbing, you'll be spoiled for choice of things to see and do.
Related Reading
Save This Post