My Favourite Climbing Leggings for 2021
Disclosure: This post may contain affiliate links, meaning I earn a small commission if you decide to make a purchase though my links, at no additional cost to you, which I'll probably spend on more outdoor gear and travel to cool places.
I love wearing climbing leggings instead of looser climbing trousers. I find them much more comfortable and easier to move in. There's the added bonus that I can also wear them for yoga and other sports too. Well, to be fair, I actually wear them around the house most days, just because I love wearing them.
Over the last year or so, lots of companies are bringing out some really funky and colourful designs, which I absolutely love. Funky printed leggings aren't a new thing in climbing either. They were super popular in the 70s and 80s and I'm so happy they are making a comeback. To be honest, I'd probably wear them even if they weren't!
There are so many awesome printed leggings out there, and especially over the last 12 months, shopping for new leggings has been my guilty pleasure. So I decided to put together a round-up of my favourite ones from across the interweb, with ones that I either have or are high on my shopping list.

Do you need a climbing-specific legging for climbing?
I don't wear climbing-specific leggings most of the time. In fact, most of the leggings I wear for climbing are normal yoga or fitness leggings. There are some companies that make dedicated leggings for climbers, like the Austrian company SO SOLID.
What's the difference? A climbing legging designed specifically for climbing generally has some extra reinforcement in the knee area, as the knee area can be the first part of a climbing pant to wear out.
So Solid Climbing Leggings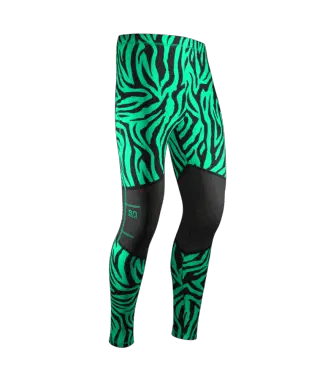 SO SOLID climbing leggings are inspired by the funky styles on the 70s and 80s when climbers wore loud prints.
Their styles are all unisex, made from 78% recycled material and with reinforced knees for extra durability. If you want a legging that's specifically for climbing, these are a great option.
Retail price approx. €90 / $110 / £80
Best Climbing Legging for mountaineering, Multi-pitch & via Ferrata
For longer climbs, such as via ferrata and alpine multi-pitch routes, I usually wear my Fjällräven Abisko Trekking Tights. They aren't as colourful as my gym and sport climbing leggings, but they are way more durable. They have extra reinforced areas around the knees and bum. After doing the walk of shame after ripping through to my pants on a 5-hour via ferrata route back in 2015, if I think there's a remote chance I'll be doing any shimmying down over rocks, these are what I'll wear.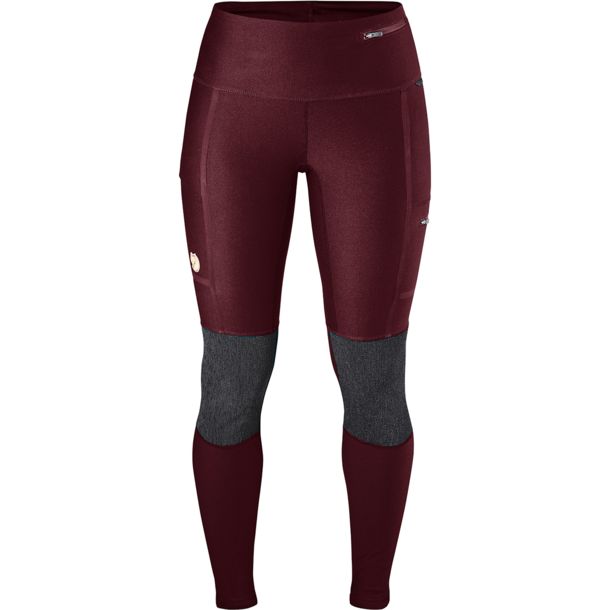 Leggings for sport climbing & bouldering
As I mentioned above, I mostly buy non-climbing specific leggings for my everyday climbing, as there are many more options available for colourful and printed leggings, and those are my favourite. Whilst they don't have the reinforced knees like the So Solid leggings, so far I've not had any issues with durability. They are perfect for in the gym and on shorter outdoor sport climbing and bouldering routes.

My Top 5 Favourite printed Leggings for Climbing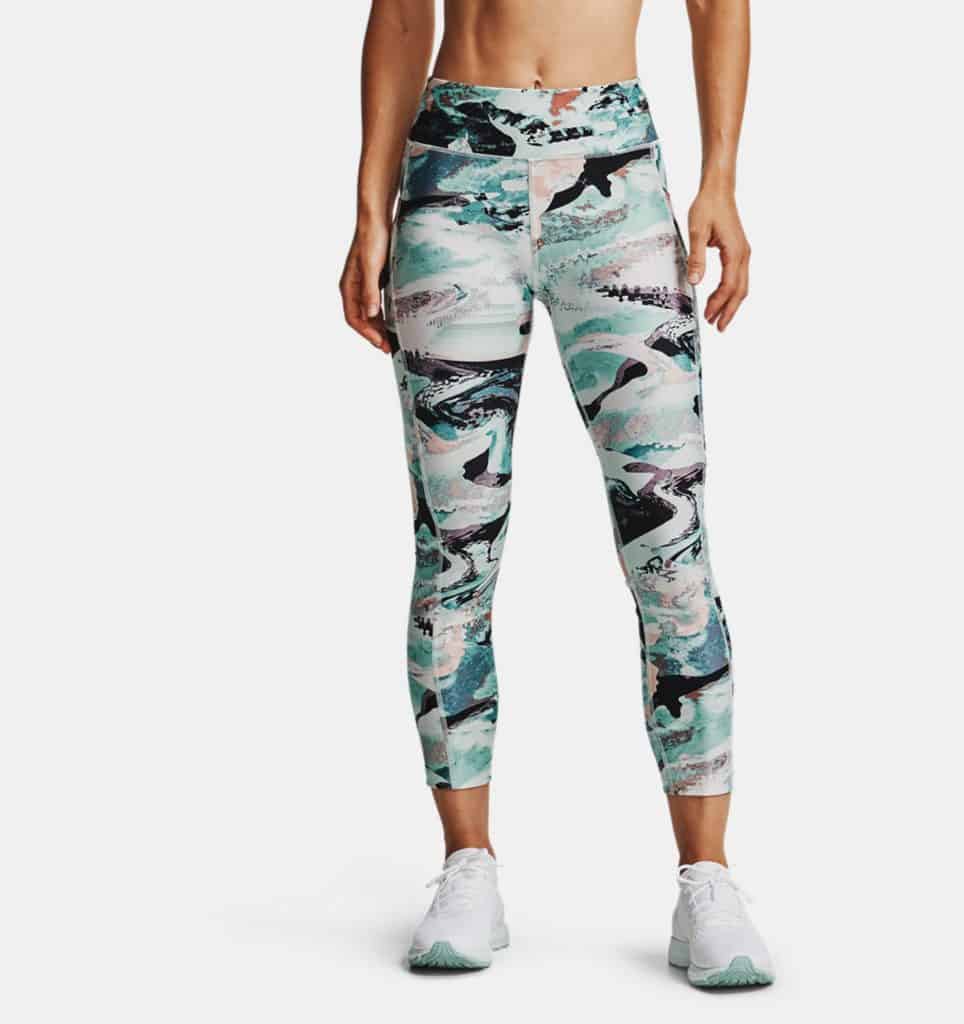 Under Armour
I got a pair of Under Armour leggings for Christmas and I'm obsessed with them. They fit beautifully, don't slide down and they have pockets too. Some of the designs even have matching sports bras in the same print too so you can complete the look from top to bottom.
Fabletics
I've known about Fabletics for a while and love how many amazing different styles they have. I can't wait to give them a try as I've got a number of friends who are rave about them.
With Fabletics, you can buy as a one-off or if you become a VIP, you can get the same outfits at a fraction of the cost. The VIP membership can be paused as often as you want or cancelled anytime.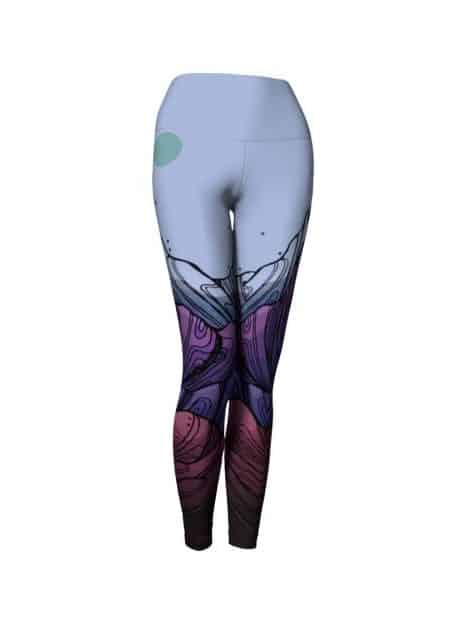 Coalition Snow
I'm obsessed with this Coalition Snow. They are an awesome women-owned small company out of the USA aiming to make an impact in the world of snowsports and beyond.
If you're not in North America, it's a little tricky to get them at the moment, but if you want to support an awesome company that are doing great things, then definitely consider then.
Retail price: $69
Shop Leggings on Coalition Snow – Use CATE10 for 10% off
Adidas
During lockdown when I was shopping for leggings I landed on the Adidas website. Not only did they have a great selection but I loved how body positive and racially diverse the Adidas website was. Sure, you think of Adidas for traditional gym wear and running gear but these would make perfect climbing leggings too.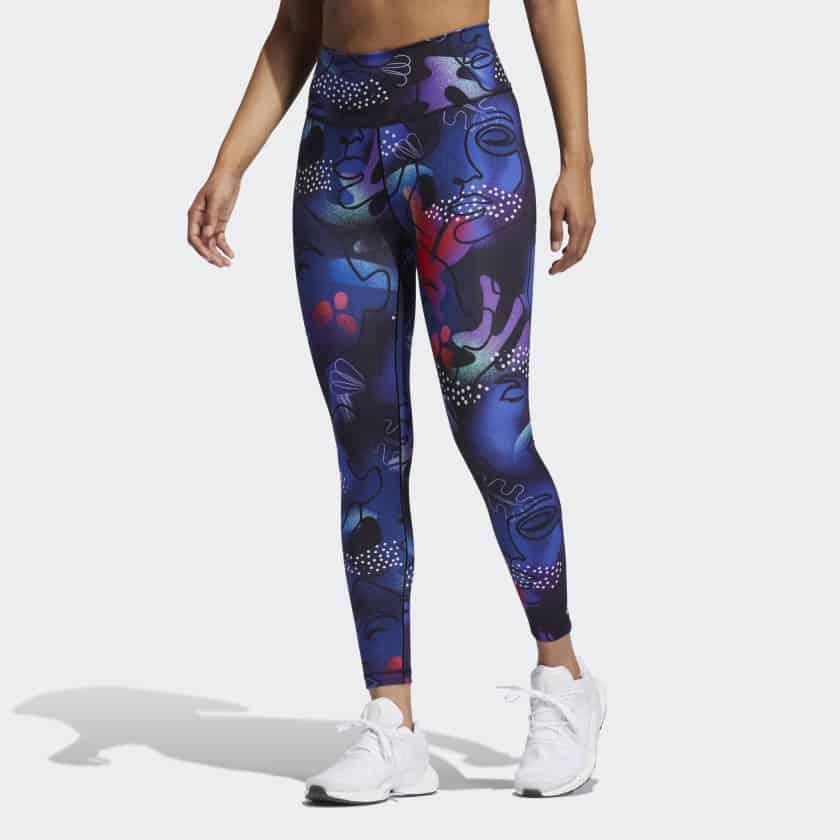 Prana
Prana is a company that believes in sustainability and clothing for positive change. They have collections for climbers and yogis, but who says where one stops and the other begins 😉
The Kimble leggings are their printed ones, available in a number of designs. I've just got a pair as an early birthday present (a different pattern to the ones pictured) and I can't wait to test them out.
Want to see the whole list of leggings I compiled before I shortlisted my top 5? Be prepared for a wash of colour!
> Best Printed Leggings of 2021 <