How To Become A Ski & Snowboard Instructor
Disclosure: This post may contain affiliate links, meaning I earn a small commission if you decide to make a purchase though my links, at no additional cost to you, which I'll probably spend on more outdoor gear and travel to cool places.
Maybe your love affair with the slopes started off as a simple hobby, a great Winter holiday to look forward or a good helping of adrenaline. However, recently, the idea of whether you could become a ski instructor may have been crossing your mind. If you have a passion for skiing and love the idea of spending the winter seasons teaching others to love the sport too, you are well on your way to becoming a great ski instructor. That being said, there are a few things that you should know before you quit your job and spend your life savings on an instructor training course.
My Journey To Becoming A Ski & Snowboard Instructor in Austria
Lots of people ask me how I became a ski & snowboard instructor, especially since I didn't grow up skiing or living in an alpine country. I had two ski trips as a kid and really wasn't particularly impressed by the whole thing (or had any natural ability whatsoever). But later in life I tried again, this time with snowboarding. After working a season as a chalet girl, I knew I never wanted to do that job again but I did want to keep doing winter seasons. I decided to become a ski & snowboard instructor and so I could keep living the seasonaire life in the mountains. And so that's what I did!
My first winter season was in the Austrian Alps, and I'd fallen in love with Austria as a country. My goal was to return there the following year to work as a snowboard instructor, so I decided my best option was to use my summer season to train and get qualified so I could return to Austria for the next winter season. At the time I was a snowboarder with just one winter season under my belt. I'd only spent a couple of days on skis and wasn't a particularly confident skier, so my plan was just to qualify as a snowboard instructor.
Because my goal was to work in Europe, and specifically Austria, I researched the different qualifications. Since I didn't speak German well, I decided my best option was to find a BASI (British Association of Snowsport Instructors) course, as BASI qualifications are recognised in many European countries. I found an instructor training course in New Zealand with the Rookie Academy, and I chose the 12-week course which included the NZSIA level 1 and BASI level 1 & 2 courses and exams.
A day off in the mountains during instructor training in NZ

Celebrating after passing my level 1 exam at Treble Cone
The Rookie Academy worked with a recruitment consultants who help place graduates in ski schools after training. I was put into contact with someone to help find me a job in Austria for the upcoming winter. I was advised that since I didn't speak much German, and since the demand for snowboarding in Austria still wasn't as high as skiing, I should also qualify as a ski instructor too if possible. That would make me more attractive to an Austrian ski school as I'd be able to teach either skiing or snowboarding depending on the demand. So from Monday to Friday I trained for my snowboard instructor certification and at the weekends it was ski training. My hard work paid off though, as at the end of the season I left with qualifications in both disciplines and a job offer for a ski school in Austria.
My instructor training didn't end when I left New Zealand. Being a typical overachiever, in the coming winter seasons I also trained further with BASI to gain the Adaptive Snowsports Level 2 instructor certification.
Working as a ski instructor, since I was dual-qualified, I taught both snowboarding and skiing. Being newly qualified (and female), I was almost always the one who got given the complete snowboard beginners or the small kids. After my first season in Austria, I then went to Australia to work in a ski school, following the winter around the globe for a few years.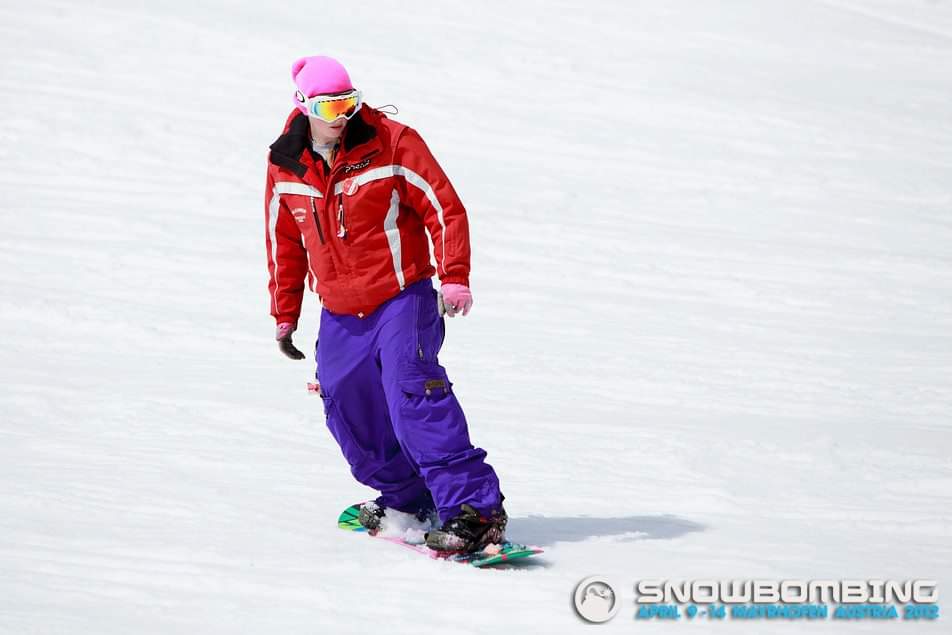 As my German improved and I returned to the same ski schools year after year, I was given more advanced students or more private clients instead of group lessons. However, when I did work on the odd occasion for a different ski school, despite being more experienced and qualified than many of the locals, I'd often get overlooked since I was an outsider and a foreigner. There were certainly some ski school directors who favourited the barely qualified locals over Menno and I who had 5-10 years experience and higher qualifications.
Anyway, by now you've probably got a whole load of questions in your head about how to become a ski or snowboard instructor, so I'll try to do my answer them.
Do You Need To Be Qualified To Work As A Ski Instructor?
Not always. There are some cases where you don't need any qualifications. In some places a ski school will take on unqualified instructors to help as assistants or as part of an internship program where you might be expected to take an exam mid-way through the season to get your qualification. However, there are pros and cons to going this route.
The pros – you get to work a winter season in a ski school and see what it's like being a ski instructor before spending thousands on qualifications.
The cons – unqualified instructors are paid less, much less, and in many cases, they are the ones hired to help out teaching the very small children in the kids and beginner area. From my own experience of seeing the work that unqualified instructors get, it can be more like glorified babysitting at times. The other con of being unqualified is that during the lower times of the season when there isn't as much work to go around, you might find yourself without work as you're pretty much at the bottom of the pecking list.
> Read this article on instructor courses vs. internships and how to choose which is right for you.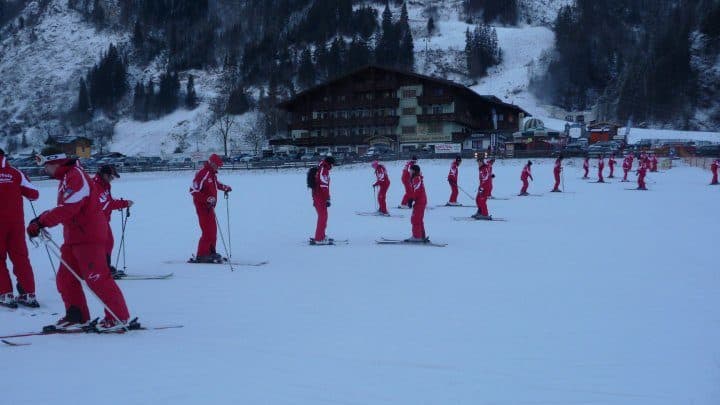 What Ability Do You Need To Become Ski or snowboard Instructor?
If you are already an advanced skier this will go in your favour for the higher level qualifications, however, you don't actually need to be incredibly advanced to become a ski & snowboard instructor at the start as when you first qualify you'll mostly be teaching beginners anyway. It is important that you can control your speed with ease and are able to maintain controlled turns on at least a red run for parts of the examination. During most instructor training courses you'll also get training to advance your own technique as well as your teaching skills.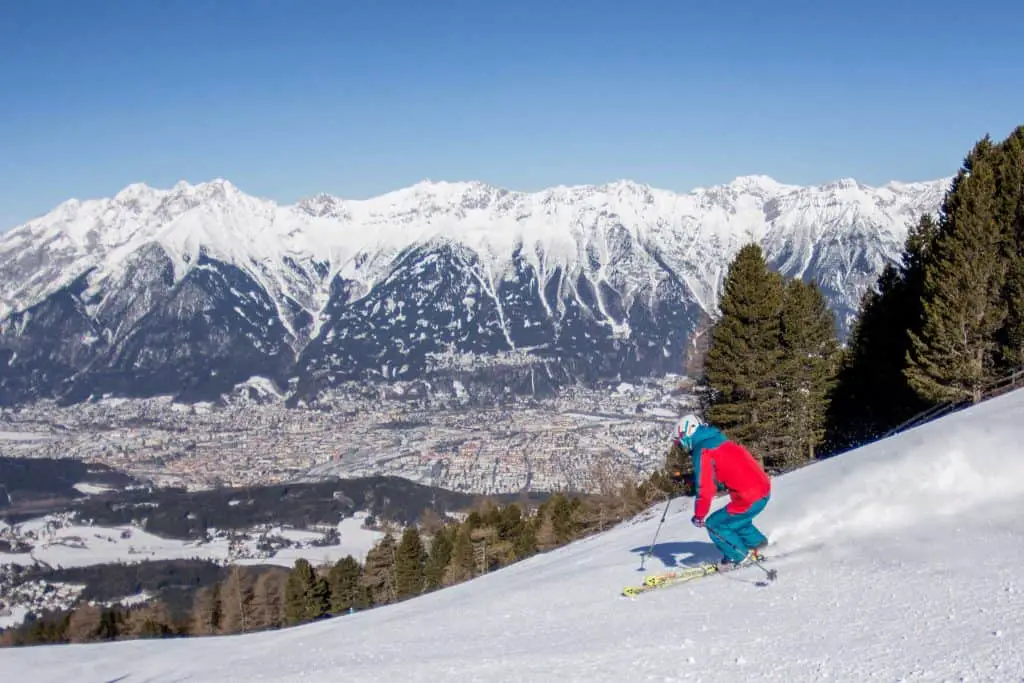 What Different Qualifications Are There For Ski & Snowboard Instructors?
Across the globe there are different governing bodies in snowsports instructing, and their purpose is to oversee the training and qualifying of instructors to a benchmark standard that is recognised worldwide.
Many of the national governing bodies are members of the ISIA (International Ski Instructors Association), and while they all have their own individual styles and syllabuses, they all adhere to the highest standards set by the ISIA. Some of the most respected ISIA members include:
You might notice that some major alpine countries from Europe are not listed as ISIA members and this isn't a mistake. Austria, Italy and France, Europe's top three Alpine skiing nations all withdrew from the ISIA at the end of 2015 after criticism of the lowering of standards in qualifications. These three countries all have their own governing bodies, and naturally see their own qualifications as the best in the industry.
What Are The Stages Of Qualification?
The Progression for most ISIA Member governing bodies
For ISIA member ski and snowboard instructor qualifications, there are 4 main levels to achieve. Each level is going to open up more prospects to you to teach more varied levels, as well as teach on a broader terrain. Let's briefly look at each level now:
Level 1 – This lets you instruct in a controlled environment, such as in the beginner area or on a dry slope or indoor ski hall. You'll struggle to get international employment with only a level 1 qualification. Your students would either be beginners or very early intermediates who do not have much experience.
Level 2 – Once you have your Level 2 you are generally able to teach in a number of other countries (subject to fulfilling visa or work permit requirements). You are able to teach on any most pisted runs on the mountain and your students will be beginners and intermediates.
Level 3 (ISIA) – Becoming a Level 3 instructor means that you have already put in a lot of teaching hours and have also completed intense training in multiple disciples within your sport, such as freestyle, mountain safety and race training. You'll also have a second discipline and now you can take on advanced students and your choice of terrain to teach on will be wide. Once you have level 3 it's easier to get a sponsored visa for working overseas.
Level 4 (ISTD) – This is the big one! To pass level 4 you'll need to complete the 'dreaded' Eurotest as well as an alpine awareness course. Once you hold level 4 you are able to teach any level of student on any terrain. You will also be qualified to guide clients in the backcountry, work independently in the Alps or become a trainer and teach others to become ski instructors.
Austrian Ski Instructor Qualifications
The Austrian system is a little (actually extremely) confusing! There is a national governing body, the ÖSSV (Österreichisher Skiverband/Snowsport Austria), however within Austria the different states (Bundesländer) also have their own governing bodies and run their own training courses up to the Staatlich level. The Austrian system is broken down in a similar way to the ISIA system, however there is some disagreement about the comparison between the levels of the different systems.
Anwärter: The Anwärter is the entry level qualification in the Austrian system, however the general consensus is that it's closer in comparison to a level 2 qualification from many of the ISIA member organisations such as BASI & CASI, since holders of an anwärter can take their students away from controlled environments (aka the beginner hill or indoor slope) and up onto the mountain without requiring supervision from another instructor.
Landeslehrer/Snow Sports Instructor: For the Landeslehrer qualification, you are expected to have skiing ability to a much higher level as well as the anwärter in snowboarding and training in other disciples such as telemark and adaptive skiing. There is also an element of alpine safety knowledge that will also be tested for this level. Once completed, this is on a similar level with an 3 ISIA certification.
Diplom-/Staatlicher Skilehrer: To even take this course you need to complete an entry exam. The Staatlich qualified ski instructor is the highest level of certification for ski instructors, and only the best make it this far. To complete the certification, one of the things you'll need to pass is the Eurotest, a speed test.
Skiführer: The final qualification a ski instructor can get in Austria is that of a ski guide. Only once all the other certifications have been achieved and you have passed an alpine safety course can you also work as a ski guide in the backcountry.
French Ski Instructor Training
France is quite possible the hardest country to become a ski instructor in. To even get accepted as a trainee instructor in France (known as a Stagaire), you must pass the 'Test Technique', a notoriously difficult timed slalom course, within a set time. This test only happens twice a year, so if fail it you'll have a long time to wait until you can re-try. If you are successful, you can apply for your 'Livret de Formation' certificate that classifies you as a ´Stagiare´ (French for trainee). You then have 4 years where you are allowed to teach as a trainee in a French ski school whilst you complete your ski instructor diploma (ISTD level).
The only other option if you want to work in France is to hold an ISTD level qualification from another governing body.
Where Can You Work In The World As A Ski Instructor?
If you're a native English speaker and you don't speak another language, the most straightforward options are to work in English speaking countries. This opens up Australia, New Zealand, Canada, the USA and Scotland. However you can get by in many European countries where there are big ski resorts that have a large amount of international visitors too, such as Austria, Germany, Switzerland, Andorra, Slovenia, Bulgaria, Finland, Sweden, Norway, France, and Italy. However you will find that most ski schools will expect you to learn the basics of the native language too if you want to have work throughout the season.
Another choice that may interest you is working in Asia. Both Japan and China tend to have a need for ski instructors who speak English.
Of course, there is also the matter of visas and work permits. So depending on where you live, and what your nationality is might also have a bearing on where in the world you can work as a ski instructor.
Tip: If you want to work in Europe but don't speak a second language confidently, look at the big ski travel agencies such as Crystal/TUI & Inghams to see which are their major resorts. As a general rule, if they have a large amount of accommodation options in a resort, there's a large demand for it, which means there's also usually a high demand for English speaking instructors too.
Does It Matter Which Ski Instructor Qualification I Choose?
Possibly! The country you want to work in as a ski instructor should guide which qualification you choose to pursue, as it can make your chances of getting a job and earning more money greater.
I've experienced myself how different countries have biases towards some qualifications over others. The reality is that while a BASI or NZSIA certification should be enough to get you a job in a ski school in many places around the world, many countries still weight some qualifications more highly than others and often prefer to hire instructors with qualifications within their own systems (even though they might not say that they do).
Look at the countries you want to work in as a ski instructor and what the requirements are and research the visa/work permit process to see if you need a certain level or qualification. If you know you want to work in a specific country, such as Austria, then I'd recommend training in the Austrian system to give yourself the best chances of employment.
I was able to work as a ski & snowboard instructor Austria with my level 2 BASI and NZSIA qualifications, however whenever I worked for a new ski school, I often felt that I was treated with less respect that the unqualified, inexperienced younger locals who only took their anwärter courses mid-way through the season. I was more qualified and more experienced but I wasn't a local and that counts for a lot in some areas! I definitely had to fight harder to earn the respect of my fellow Austrian instructors and the ski school boss. But after a season I almost felt link I was a local!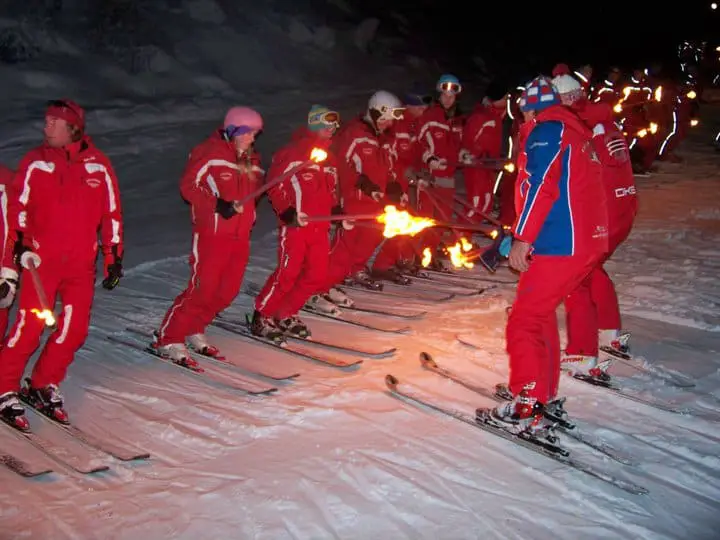 How Long Does It Take To Qualify?
Getting qualified as a ski or snowboard instructor can take anything from a week to a whole season. A lot depends on which qualification you are taking, whether you are simply attending the exam after doing your own self-study/training, or you are taking part in a multi-week training course with an exam at the end.
For example, getting a BASI level 1 can be done in around 1 week, or an Austria anwärter in around 2 weeks if you are just taking the examination.
However, many people like to increase their chances of passing the exams by spending anything from 4-12 weeks on a training course, run by schools with ISTD level (or equivalent) trainers to give them a better chance of passing the examinations. These training coursers allow you to improve your own ability, usually to well above what is required for the exam, and have practice teaching experience so you're much more confident when the final assessment days come around.
How Much Does Ski Instructor Training Cost?
The BASI level 1 course in the UK currently costs £435, plus you'll need to cover your own personal expenses like food, travel and accommodation. However, if you want to consider a gap course that will last around two to three months and allow you to qualify for levels 1 and 2 then you will need to save hard and expect to pay in the region of £8,000 upwards. This may sound a lot but when broken down to a weekly basis and considering that level 2 opens up many more teaching opportunities, it is certainly worthwhile to consider if you are serious about becoming a ski instructor.
Where Can I Book A Ski & Snowboard Instructor Training course?
If you want to go down the DIY route, once you know which system you want to train in, simply look on their website for exam dates. Most will have the opportunity to book onto exams directly via their websites. You'll be responsible for making sure you're adequitely prepared for the exam, and for your own travel and accommodation.
If you would rather have everything taken care of for you, there are many companies that offer training courses from accredited bodies packaged together with accommodation and the final exams at the end. You might even get the option to do something cool like heli-skiing as an added bonus (I did as part of my course in New Zealand). Many courses also offer to help place you with a ski school once you've passed your training so you can get straight to work as a newly qualified ski instructor.
Here are some well known companies offering ski instructor training around the world:
Based in: New Zealand
Courses Offered: BASI, NZSIA, CSIA, PSIA
Course Locations: Wanaka, New Zealand
Based in: UK
Courses Offered: CSIA, BASI, NZSIA
Course Locations: Canada, France, New Zealand
Based in: Austria
Courses Offered: Austrian, BASI, CSIA
Course Locations: Austria, France, Argentina, Canada, Japan
How Much Do Ski Instructors Earn?
Now that you understand the various levels of training involved in becoming a ski instructor, let's look at the how much you can earn once you start working if you decide to get a job after your training (some people do it just for personal development).
As you've probably now seen, ski & snowboard instructor training is expensive, especially if you are looking at getting at least to your level 2. It is going to take you a few weeks at the very least, and for most it's closer to a few months, and may set you back thousands. And that's assuming you pass your exams first time around. So can you earn that back in your first season of teaching? Honestly, probably not.
The hourly rate for ski instructors varies a lot depending on where you work in the world. It can start from around £11 an hour and go up to as much as to £55 an hour for qualified and experienced teachers. This graphic from Snow Skool is a good visual guide: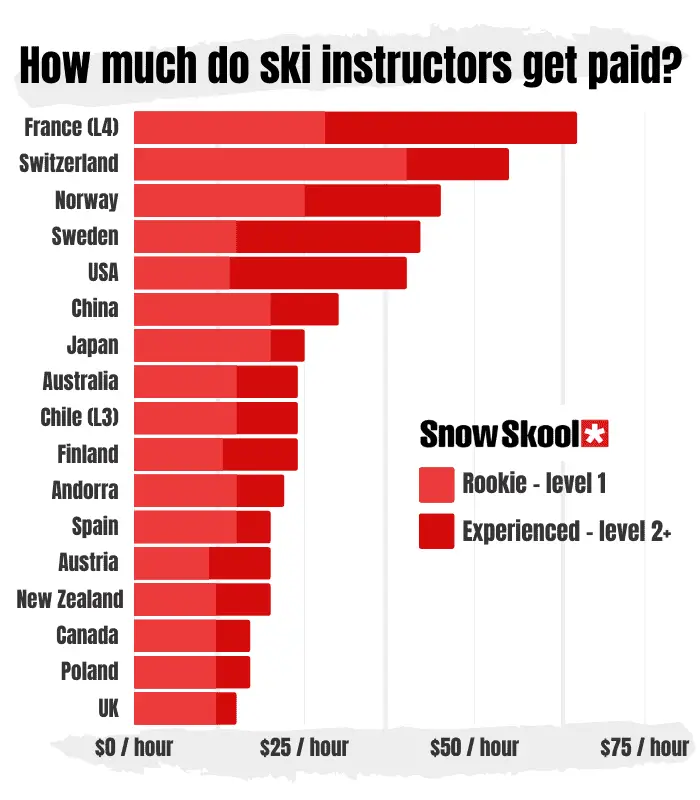 What you also need to take into consideration is the number of hours you'll be working and also your living costs – as living in a ski resort isn't cheap. Many ski schools offer cheaper accommodation for their instructors, but it's rarely free. Sometimes you might need to find your own accommodation. You'll generally get your season pass paid for, but you might be expected to pay a portion of that too if you leave mid-way through the season or can't work due to injury (I've seen it happen to colleagues). Then you'll also need to resist all the other temptations of living in a ski resort. Hello, gear shops will all the shiny new things you want to own and the bars and mountain restaurants extortionately priced for the captive tourist market.
The reality is, most ski resorts have high and low seasons, which means that there are some weeks when there are more instructors than there are clients booking lessons. Depending on where you are working, you might be on a fixed hours contract, meaning you get paid the same amount each month for a guaranteed minimum number of hours work (this was how I was paid at my ski school in Austria) or you might be on a zero hours contract where you are only paid for the hours you actually work (this is how I was paid in Australia). Most ski schools will give the work to their most experienced, longest-serving instructors first, so if you are at the bottom of the line and there are more instructors than clients, you may find yourself with a morning off and no pay. This might be fine if you are just doing it for a season for the experience as that it means more time for skiing. However, if you are paying for your accommodation or trying to save money during the season, you'll quickly find things can get tight. Some new ski instructors take evening jobs in bars or babysitting to earn some extra cash on the side.
All that being said, most people don't decide to become a ski or snowboard instructor just to get rich. For many, it's much more about living the lifestyle and finding a balance of enjoying life in the mountains while making enough money to get by.
How Many Hours A Day Do Ski Instructors Work?
This is again something that varies between countries quite a lot.
When I worked as a ski instructor in Austria, I taught mostly group lessons, which meant I'd have the same group for a whole week, from Sunday to Friday. The lessons were from 10am until 12pm and again from 1pm until 3pm. So I'd be working 4 hours a day, 6 days a week. Sometimes I'd have extra 1-hour private lessons (which were paid extra to my contracted hours), either at 9am, from 12-1pm during my lunch break or at 3pm. I was expected to be at the ski school by 9:30 every morning to greet my group, and we'd often have instructor training a couple of times a week in the mornings from 8am which everyone was expected to attend. Saturday was a day off, as this was generally changeover day in resort, however if there were requests for private lessons, you could choose whether to accept them or not.
In Australia where I worked the southern winter for a couple of years, things were a little differently. The ski school offered a number of different programs, from group taster sessions to individual lessons. You would go to 'line up' every hour and get assigned your work (or not if there wasn't enough work). If you were lucky, you could get 6-7 hours work a day, 7 days a week.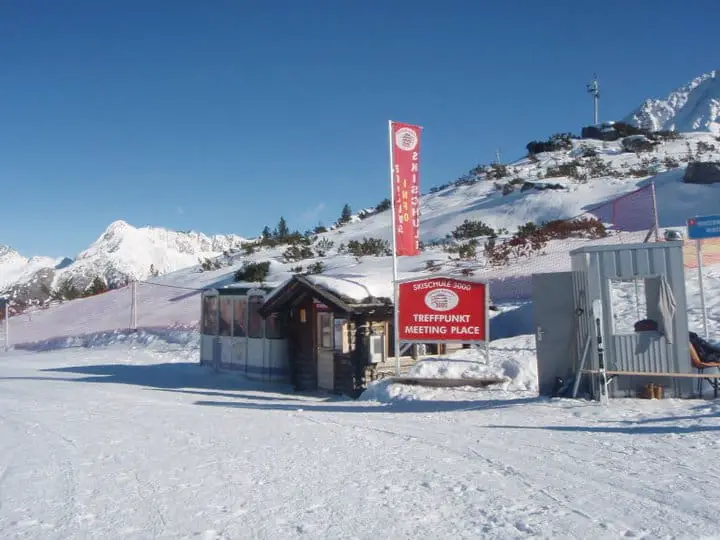 The Bottom Line On How To Become A Ski Instructor
While getting qualified can be expensive, it can be a great challenge to set yourself and working a season as a ski or snowboard instructor can be a super rewarding, even life-changing experience in some cases (it was in mine).
What do you think? Are you interested in becoming a ski or snowboard instructor? Do you still have questions about mine of Menno's experience of working for many seasons around the world as an instructor?
Leave your questions and comments below.
Save this post