Armada Reliance 102 Ti Ski Review 2023
Disclosure: This post may contain affiliate links, meaning I earn a small commission if you decide to make a purchase though my links, at no additional cost to you, which I'll probably spend on more outdoor gear and travel to cool places.
The Armada Reliance 102 Ti is a high-performance ski designed for advanced and expert female skiers. This ski boasts a versatile 102mm waist width and is built with Armada's cutting-edge technology. The Reliance 102 Ti offers excellent stability, power, and edge hold on groomed runs, and its lightweight construction makes it easy to maneuver in deep snow and challenging terrain. Whether you're carving turns on the frontside or exploring the backcountry, the Armada Reliance 102 Ti positions itself as an excellent choice for skiers looking for a top-performing ski. But is it?
At the beginning of February 2023, I took the Reliance 102 Ti for a test drive on the Stubai Glacier in the Austrian Alps. Here is what I thought about it.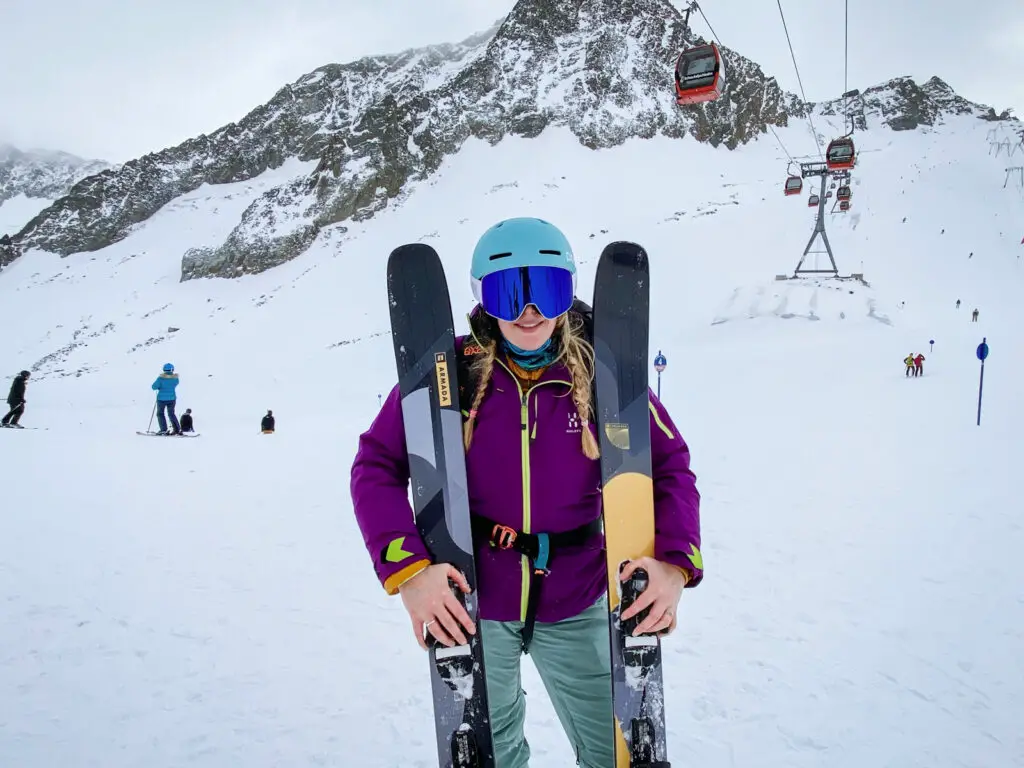 What is the 2023 Armada Reliance 102 Ti Ski?
The Armada Reliance 102 Ti is a versatile all-mountain ski designed to have a balanced combination of power, stability, and agility, making it an ideal choice for skiers who want a high-performance ski that can handle a variety of conditions and terrains.
Top benefits of the Armada Reliance 102 Ti
This is a fantastic ski if you are looking for an all-mountain charger. It's a super solid, stable ski when you want to crank up the speed on the slopes, holding an edge fantastically. The 102mm underfoot, combined with the tip rocker means that this ski is great for heading into the powder too. And when things get a bit chopped up, you don't need to worry. The stiffness from the Articulated Titanal Banding means it can charge through it, without throwing you around all over the place.
2023 Armada Reliance 102 Ti in Detail
2023 Armada Reliance 102 Ti Specs
The Armada Reliance 102 Ti comes in three different sizes: 164cm, 172 cm, and 180 cm. For the ski test, I tested the 172cm model, which is the one I have included the specs of below:
| | |
| --- | --- |
| Ski Length | 172 |
| Radius | 17.5 |
| Side Cut Tip | 134 |
| Side Cut Waist | 102 |
| Side Cut Tail | 124 |
| Weight | 3580g |
2023 Armada Reliance 102 Ti Features
The Armada Reliance 102 Ti is packed with features
EST Freeride Rocker
The combination of a forebody rocker and increased tip taper enhances floating capabilities in soft snow. On the other hand, having positive camber underfoot with no tail rocker provides excellent edge hold for stability and control when carving is the main objective.
ATB – Articulated Titanal Banding
The Titanal layer provides stability while the Elastic Compound Layer compresses to make turning effortless. This combination results in a lively and energetic feel, allowing for easy turn initiation and enhanced power.
AR100 Sidewall
A 100% Sidewall construction provides maximum torsional rigidity for optimal high-performance carving.
2.1 All Mountain Edge
Heat-treated for optimized weight reduction and durability, this edge delivers the perfect balance of strength and feel.
Comp Series Base
A sintered UHMW polyethylene base infused with carbon delivers unmatched speed without compromising on durability.
Caruba Core
The Caruba wood core is their lightest core material, however, the Titanal layer means this ski isn't the lightest, weighing a burly 3580g for the pair.
Armada Reliance 102 Ti Pricing
The Armada Reliance 102 Ti is available worldwide at the following recommended retail prices (although you can usually get some good online deals from ski retailers):
Armada Reliance 102 Ti Pros and Cons
This ski was certainly one of the best skis I tried out on the test weekend, but depending on what you are looking for, there are certainly some pros and cons to consider.
Armada Reliance 102 Ti Pros
Great edging on the pistes
Feel super stable at higher speeds
Wide sidecut & tip rocker means you can take them into the powder
There is a lot to like about these skis. If you prefer cruising the pistes and just doing some occasional off-piste around the resort, then they might be perfect for you. However, there are some cons to consider.
Armada Reliance 102 Ti Cons
Heavy
Lager turn radius
Fairly stiff
This ski might not be for you if you're looking for a ski that you are going to be taking mostly off-piste. While this ski can absolutely handle most terrain, the weight and stiffness of the ski mean that it (and maybe you) will be happier charging the pistes than in deep powder.
Armada Reliance 102 Ti – Personal Experience
I tried four different "All-Mountain" skis on this test weekend, and this ski was by far my favorite. As an advanced skier, who can ski in any terrain, I'm probably the exact target audience that Armada had in mind for this ski.
I took out the 172cm version of the ski, as that was the best suited for my height (I'm 168cm/5'6″). I weigh around 70kg, so I'm not the lightest skier.
While I'm technically an advanced skier, able to ski most terrain, I often lack confidence in my ability and usually hold back from really letting go and letting my skis run a bit faster. But skiing on these skis made me really step on the gas!
My Experience Skiing on the Armada Reliance 102 Ti
At the risk of repeating myself, I REALLY enjoyed skiing on the Armada Reliance 102 Ti. From the first few turns, I felt a confidence in the ski that I wasn't expecting. The ski felt so stable on the slopes and transferred from edge to edge so smoothly, that I just couldn't help but hit the gas and just go. Menno commented after my second run on the skis that he didn't think he'd ever seen me ski so fast on a ski that wasn't my race skis.
There was no doubt in my mind that these skis absolutely shone on the groomers, but since they are marketed as an all-mountain ski, I also wanted to see how they held up in the off-piste.
Unfortunately, the Alps hadn't had much fresh snow when we were testing the skis, so I wasn't able to ski any deep, untracked powder with them. Instead, what I got was choppy, tracked-out terrain. The skis handled the chopped-up snow pretty well. Because of the stiffness, the ski felt really stable.
FAQs about the Armada Reliance 102 Ti
Can You Use The Armada Reliance 102 Ti for Ski Touring?
The Reliance 102 Ti isn't a ski I would recommend for touring, as it's a pretty heavy ski. It's designed more with resort charging and the odd bit of off-piste. For ski touring, you are probably going to want something a lot lighter, such as the Locator 104.
Is The Armada Reliance 102 Ti for Ski A Good Powder Ski?
While the Reliance 102 Ti can be taken into the powder, it's not a powder specialist. If you are looking for a dedicated powder machine, I would recommend something a bit softer and lighter, like the ARV 116 JJ or the ARW 116 VJJ UL.
What type of skier is the Armada Reliance 102 Ti best suited for?
The Armada Reliance 102 Ti is designed with advanced and expert female (or smaller male) skiers who like to hit the slopes hard, but also want to take the ski off-piste occasionally too in mind.
Can You Mount Shift Bindings on the Armada Reliance 102 Ti?
They can, but since this ski isn't really designed with touring in mind, if you are looking for a touring ski, then I would suggest something lighter, such as the Locator 104.
Conclusion: Should You Buy Armada Reliance 102 Ti?
If you're a strong skier and you want to have a ski that will make you feel invincible as your charge around the resort, then yes, the Reliance 102 Ti might just be a match made in heaven for you. You'll have a ski that you can shred all day on the pistes, and if you happen to find some fresh snow, you can take it for a play knowing that it'll get you down pretty much anything you throw at it.